Tuesday, September 19th, 2023
by Bobby Reynolds, Fitness Consultant

Setting exercise and weight loss goals is one thing, but following through with them is much more difficult. Having a personal exercise trainer to motivate you can help you achieve higher levels of strength and fitness, giving you the body you want.
What is a Personal Trainer?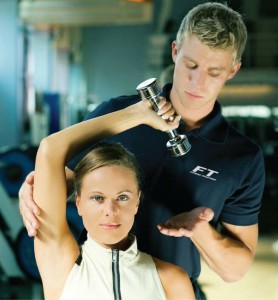 A personal fitness trainer assists his or her clients in achieving their health and fitness goals. By instructing them in proper exercise techniques and motivating them to achieve their goals, a personal trainer helps people to improve their overall level of fitness.
A licensed personal trainer is able to give advice on proper exercise form, can recommend workout routines, and knows how to design a diet and nutrition plan. Most personal training coaches combine aerobic exercise, resistance exercise, and flexibility training into their individual workout programs.
Licensed Personal Trainers
For Personal trainers in the U.S.A., there are several types of accreditation. The American College of Sports Medicine (ACSM) or the National Strength and Conditioning Association (NSCA) are both well-regarded organizations with strict licensing criteria. The ACE Personal Trainer Certificate (American Council on Exercise) is also well-respected.
Personal trainers in Australia are required to belong to a registering body to be covered by insurance and do personal training. The minimum qualifications required are holding a Certificate III in Personal Training.
U.K. personal trainers should belong to the National Register of Personal Trainers (NRPT), and may hold additional accreditation such as a YMCA Personal Trainer Diploma. In Canada, licensing for personal fitness trainers depends on the province where one lives.
How to Choose a Personal Trainer
Choosing the best personal trainer for you will depend on a variety of factors. What are your fitness goals? Are you trying to build muscle with free weights? Or are you hoping to burn fat and trim your waistline?
Perhaps your busy lifestyle means you don't have time to go to the gym? Or maybe you are looking for the best 30-minute workouts and need a personal trainer to motivate and push you?
If you live in a big city like New York, personal trainers in Manhattan will most likely be found at health and fitness clubs. They will take you through your workout two or three times a week and also provide nutritional counseling.
Personal trainers in Dallas may have a different approach, because the climate is mild and you can spend more time outdoors. The same thing goes for Southern California personal trainers or a personal trainer in Miami, as they can take advantage of being close to the ocean which means more workouts running on the beach.
Personal Trainer Methods
By making exercise fun and exciting, certified personal trainers are able to create goal-based programs that keep your workouts fresh and fuel your motivation. Through one-on-one coaching and guidance, you will be able to gain motivation and build confidence.
The best personal trainers teach safe and proven methods that energize your workout routines with constantly changing and evolving exercise programs. They help you to measure and track your progress while building strength and endurance.
The Best Personal Trainers
What makes a good personal fitness coach? Because each of us have different body types, motivation and fitness goals, it really comes down to the personal relationship you develop with your private exercise coach. If you want Pippa Middleton's bum, then you're going to have to find the right trainer to help you get there.
It's important to find a personal trainer that is likeable and makes you feel comfortable. You're going to be spending many hours with this person, so having a good one-to-one relationship is important.
Personal Trainer Success Stories
Personal trainer success stories inevitably come down to the fact that the client feels like his or her fitness goals are understood by the fitness trainer. A custom-designed exercise program that works to achieve weight loss and better health means you have found the best personal trainer for you.
A personal trainer holds you accountable: for the first time, you are learning to take responsibility for your health. Your trainer will design a diet plan for weight loss that includes a cardio program and a muscle training program. Then he or she will make sure you stick to it.
You may have started a new fitness regimen several times in the past, but quickly lost interest and become so discouraged that you eventually gave up. An advantage of working with a personal trainer is that it helps keep you motivated to stay the course until you reach your goals.
Often once you start working with a personal trainer, you start to get compliments on your newly-toned arms, legs and stomach. You look in the mirror and you can't believe how much better your body appears!
(published May 14, 2011)