Thursday, November 30th, 2023
by Helen Hayes, Diet Counselor

A lot of people think Optifast is just a "shake diet." But for overweight people who hope to lose weight once and for all, OPTIFAST meal replacement shakes, bars, soups and desserts can succeed where other diets have failed.
Doctors recommend the Optifast program for patients who are more than 50 pounds above their ideal weight or have a BMI a (Body Mass Index) greater than 30. Weight loss results on Optifast vary by individual, but many people find that this diet program delivers weight loss for good.

The Optifast diet is made up of 4 phases: screening and evaluation, active weight loss, transition to solid foods, and maintenance of new healthy weight. Doctors and other healthcare professionals are involved in monitoring and providing support to patients on the Optifast program.
Each Optifast clinic or Optifast doctor may offer somewhat different weight loss programs. There are also country differences. Optifast in the USA differs from Optifast in Canada, for example.
The first phase of the Optifast slimming plan is lifestyle screening and analysis. Optifast works best for very fat people; generally those who need to lose at least 50 pounds or are so obese that they are considering bariatric surgery.
A physician will do laboratory tests as well as a general health screening to find out if there are any risks to going on Optifast for this particular patient. During this time the patient can meet the various support staff that he or she will be working with while on the diet, including nurses, lab technicians, psychologists, counselors and nutritionists.
After screening has been completed and it has been determined that the patient is a good match for the Optifast, the diet itself begins. This is the active weight loss phase and generally lasts from 4 to 6 weeks. During this phase the patient is on a liquid diet using Optifast products.
OPTIFAST is basically a complete meal replacement program. The Optifast system for losing weight utilizes a calorie-controlled diet combined with lifestyle education, medical monitoring, and weight loss support. The program frees patients from the need to count calories and calculate portion sizes.
Optifast meal replacements provide all the needed vitamins, minerals and protein while allowing patients to consume significantly fewer calories. The lifestyle changes needed for long term weight loss are also a big part of the success stories so many Optifasters have.
The weight loss shakes come in a variety of flavors, and generally provide less than 800 calories per day. This is why the Optifast diet is considered a very-low calorie diet. If you drink five Optifast shakes a day, you'll get the recommended daily allowance of vitamins and other basic nutrients necessary for good health.
During the active weight loss phase of the Optifast program the patient meets with his or her doctor on a weekly basis to monitor diet progress and overall health. Laboratory tests are often done again to check cholesterol and blood glucose levels. As weight loss increases medication dosages may be altered, and the amount of Optifast consumed each day may be adjusted to suit evolving calorie needs.
Optifast group counseling includes sessions with a trained psychologist or therapist to discuss problems and overcome obstacles. During these group meetings Optifasters will begin to learn new lifestyle behaviors and healthy eating patterns to help them maintain their new weight when they start eating self-prepared foods again.
After the active weight loss phase of Optifast is completed, it's on to the transition phase of the diet. This is when the patient begins to eat solid foods, gradually replacing the Optifast shakes.
Dieters spend time with a licensed nutritionist to help them make meal choices containing healthy vegetables, whole grains and fruits that are low in fats and simple carbohydrates. During this active weight loss phase the dieter continues to consult with a medical doctor on a regular basis and also attend group counseling sessions. The active phase of Optifast goes on for about 4 to 6 weeks.
Once the transition to solid foods is complete the maintenance phase of the Optifast weight loss program begins. Optifasters now start to put into practice the good eating and healthy living habits learned during the program.
Exercise is prioritized as a means of keeping the weight off and avoiding Optifast weight rebound. There are support groups and online forums where Optifasters can connect with others on the program.
Is Optifast Expensive? How Much Per Month?
The cost of Optifast averages $150 a week, including weight loss counseling, medical monitoring, lifestyle education, group support and the meal replacements. The Optifast® program is typically not covered by health insurance (with the exception of Canada), which leads many to ask why Optifast is so expensive.
The average weight lost on Optifast is 60 lbs, but many people lose over a 100 lbs. Optifast is often recommended as an alternative bariatric surgery with a gastric sleeve. In the prior authorization phase of weight loss surgery, a 10% weight loss is required.
For many people, the result of the Optifast meal replacement program is long-term weight loss that is safe and effective, and which happens relatively quickly. Successful Optifast dieters often find they are able to keep the weight off for good.
What is the OPTIFAST® VLCD™ Program?
Optifast VLCD is a nutritionally complete program providing 800 calories or less per day. It also contains the recommended daily requirements for vitamins, minerals, trace elements, fatty acids and protein.
VLCD stands for Very Low Calorie Diet, which is a low carbohydrate, total food replacement for the dietary management of obesity. Very low calorie diets have been shown to be very effective in the management of obesity, with weekly weight losses averaging approximately 2 to 5 lbs. per week.
By reducing calorie intake to less than 800 calories per day (as well as reducing carbohydrate intake) the body is forced to utilize its fat stores as the major source of energy, leading to substantial loss of weight. Very low calorie diets are also linked to improvements in insulin sensitivity, blood pressure, triglycerides, sleep apnea and high blood sugar levels in adults.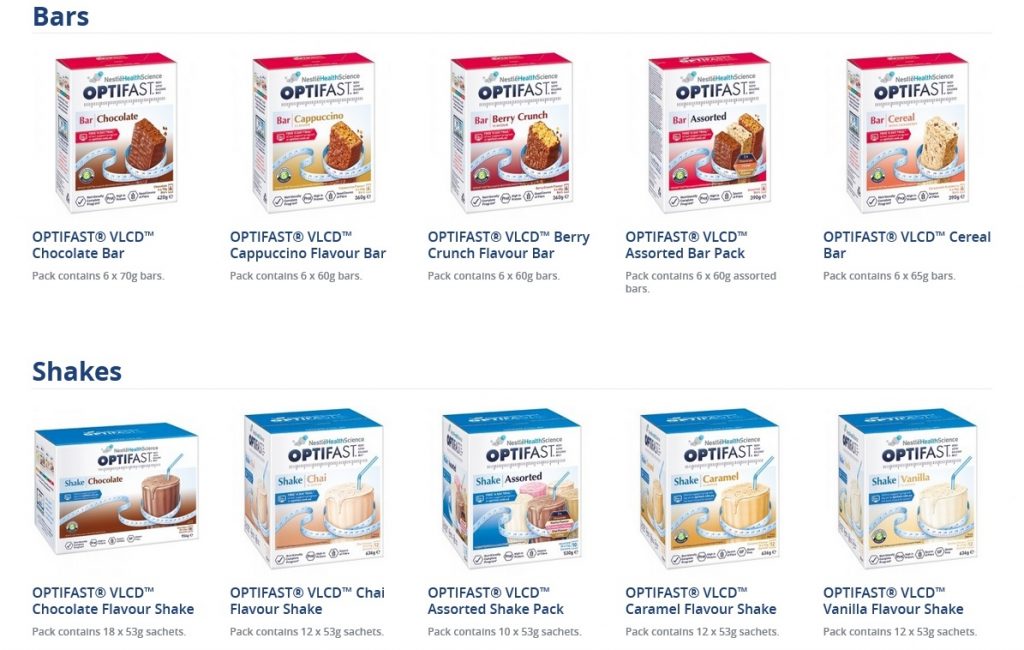 The OPTIFAST® VLCD™ Program Intensive stage continues for as long as 12 weeks. After that, there is a gradual reintroduction of food through the next three stages of the program.
Optifast VLCD will not only teach you how to lose weight, it will also teach you how to make lifestyle changes to keep the weight off for the long term.
Will I Be Hungry on Optifast?
At first, you may have doubts as to whether you can stick with this diet. The good news is that after a few days on the program, your body gets used to consuming fewer calories. Most patients on Optifast do not experience hunger or fatigue, although headaches and dizziness are occasionally reported in the early stages.
If the shakes don't taste good to you, there are Optifast shake recipes available online to improve the taste. Adding sugar-free syrup seems to be a popular way to make it taste better.
How Much Weight Can I Lose on the OPTIFAST Program?
Most Optifast users can expect to drop three to five pounds a week, depending on how much you weight when you begin the program. You should also notice a dramatic improvement in medical conditions such as sleep apnea, diabetes, high cholesterol and high blood pressure.
As a result of losing a significant amount of weight, many patients find they no longer need to take many of their regular medications, including insulin for diabetes.
The Optifast diet system can also be used by obese individuals to prepare for gastric bypass surgery. It's often recommended by doctors before the gastric sleeve is put in place.
This weight loss program adheres to strict guidelines to protect the health and safety of its patients. There are three principal areas of focus: Nutrition, Behavior Modification and Medical Monitoring.
A full medical exam is required before being accepted into the Optifast 2017 diet program. Your weight loss progress is tracked through the use of individual and group counseling on a weekly basis, all intended to encourage healthy diet and lifestyle changes.
Optifast Success Stories:
Mike, age 39, Baltimore, USA
"I had struggled with my weight for many years, and I tried just about every diet out there. I had high blood pressure and my doctor was warning me that I had better lose the weight or I was facing an imminent heart attack or stroke. I started with the Optifast milkshakes (chocolate is my favorite) and also the Optifast bars. Slowly but surely, the weight came off. I lost about 40 lbs. the first month, and then averaged about 25 lbs. a month after that.
"I eventually lost more than 100 lbs., and my life has truly been changed. I have suddenly become attractive to women, and I actually joined a gym and started bodybuilding! I am also spending a lot of time on the treadmill, because my knees and ankles no longer bother me.
"After I lost a lot of the weight on Optifast, I then turned to more conventional fat burning exercises like walking on a treadmill and working out on an exercise bike. I am so happy with my new body and my new outlook on life!"
Karen, age 35, London, UK
"At a relatively young age I was already exhibiting signs of premature aging. I had arthritis and was on cholesterol medication. I was really unhappy with my life, but didn't seem to be able to do anything to change it.
"Once I started on the Optifast program, what helped me the most were the weekly counseling sessions. I felt like I had a lot of support and that the Optifast people were with me every step of the way. Doctors monitored my progress and made sure that I wasn't losing weight too fast. The milkshakes, soups and desserts all taste great, so it didn't really feel like I was on a diet!
"Before too long I was able to come off the cholesterol medicine and not too long after that I was also out shopping for some new clothes. It was such a great feeling to look in the mirror and start to see the 'new me!' I also had the experience where people I hadn't seen for several months didn't recognize me when I walked up to them and said hello. Their jaws literally dropped when I said, 'It's me, Karen.' I can't recommend the Optifast program enough!"
Martha, age 51, Sydney, Australia
"During the years of raising my four kids, I put on a lot of weight due to all the stress I was under. It's just so hard sometimes to keep your weight under control when you are cooking for a large group like I always was. When my kids finally grew up and moved out on their own, I took a look in the mirror and realized that I was 50 kilos heavier than on my wedding day. That was a big shock to me, and I felt I had to do something.
"A friend of mine had achieved weight loss success on the Optifast program, so I decided to give it a try as well. Everyone associated with this diet program was so positive and supportive, I really felt like I couldn't fail. All of the Optifast milkshakes, Optifast bars and the rest really taste great and it was a lot easier than I expected to stick with the program.
"Now that I've lost most of the weight, I have started jogging and going to the local health club on a regular basis. It's amazing how much more energy I have for daily living! I feel so much better with the slim and healthy body that I have now."
Sam, age 22, Wellington, New Zealand
"I sought out opinions on Optifast message boards and did a lot research before beginning the program. I was 60 kilograms overweight and considering bariatric surgery (gastric sleeve). I wanted to lose the weight without having my internal organs altered, but wasn't sure I had the willpower to do it.
"Well, after 8 months on Optifast I've lost 50 kilos! I'm almost at my weight goal and have have just started transitioning to food. Optifast has truly changed my life!
"Finding a support group is really key, in my opinion. There will definitely be ups and downs along the way, and it's important to have someone to talk to when you feel like the weight isn't coming off fast enough.
"I remember my first week on Optifast, I lost a lot of weight, but then I hit a plateau. I also suffered from headaches and dizziness, but fought through it. The regular visits with the doctor and dietitian always picked up my spirits.
"Now I am focused on creating a lifestyle that will support my new healthy weight. It's a great feeling!"
Optifast Diet Reviews
The Optifast weight loss program is a holistic weight management system, where participants receive the necessary information, diet advice and psychological support they need in order to lose weight and improve their health. The average weight loss on Optifast VLCD depends on a variety of factors.
A majority of Optifast users were positive about being educated on how to make lifestyle changes that will be sustainable for the long term in order to hopefully keep the weight off for good. That's what makes Optifast different in many ways from other weight loss programs, according to many participants.
Optifast is appropriate for people who have a BMI over 30, or have a Body Mass Index greater than 27 and also suffer from high cholesterol, Type 2 diabetes, high blood pressure, sleep apnea and other weight-related illnesses. Individuals who may be considering weight loss surgery should try Optifast first.
Also, if your waist size is greater than 88 centimeters for women and greater than 102 centimeters for men, you have an increased risk of metabolic problems and are a candidate for the Optifast weight loss and diet program.
Who Sells Optifast Where You Live?
Many of our readers are wondering if Optifast is sold on Amazon? Or can it be purchased at Walmart? What about at Costco? Are there Ebay auctions for Optifast? While you may be able to pick up some used Optifast on Ebay, OPTIFAST products are normally sold through weight loss clinics and are not available for retail sale.
OPTIFAST is designed to be distributed by trained healthcare professionals to overweight individuals who have been through an initial screening process and agree to participate in an ongoing medically monitored OPTIFAST weight loss program. Optifast can also be purchased online through the Optifast website.
(published October 7, 2017)
Summary
Reviewer
Review Date
Reviewed Item
Author Rating