Tuesday, September 19th, 2023
by Dr. Mark Henderson

A tummy tuck, also known as an abdominoplasty, has become a common cosmetic surgery procedure in recent years. In fact, tummy tuck operations rank among the top 5 most popular forms of cosmetic surgery for women.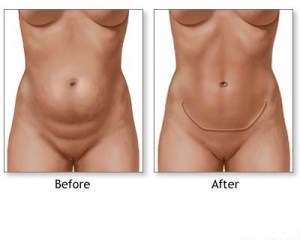 Should you have a tummy tuck? The truth is that the decision to have an abdominoplasty should not be taken lightly. A tummy tuck is a major type of surgery and tummy tuck recovery can be painful and may take a long time.
The first thing you should take into consideration is the state of your health overall. Do you have any pre-existing medical conditions or illnesses that might complicate the surgery and recovery period?
The quality and elasticity of your skin is also an important consideration. Having skin that can easily stretch and return to its former shape will lead to better tummy tuck before and after results. Your skin has to be able to shape itself to your new tummy.
You should also be emotionally stable, because recovering from a tummy tuck can be a long process requiring lots of patience. The inevitable ups and downs of recovery from abdominoplasty can lead to depression in some individuals.
How a Tummy Tuck is Performed
A tummy tuck operation is done under general anesthesia. After the operation is over and the anesthesia wears off, you are going to feel groggy and probably nauseous.
While most abdominoplasty patients are able to return home on the same day, you will definitely need someone to drive you home. More likely, depending on the extent of your tummy tuck, you will probably have to spend a night or two in the hospital before heading home for further rest.
The majority of tummy tuck patients require several days of bed rest even if they return home the same day as their surgery. Abdominoplasty is major surgery, and patients need to be prepared for a lengthy recovery.
Your tummy tuck surgeon will place a drain in your abdominal area to draw fluid away from the incisions. This area will be covered in a surgical dressing and a compression garment.
It is important to follow your doctor's instructions regarding removal of the drain, as well as any other steps you will need to take during the tummy tuck healing process.
If there sutures were used to close your tummy tuck incisions, they will be removed during a follow-up visit with your doctor. Sutures are usually removed 7 to 10 days after your surgery.
Types of Tummy Tuck:
A mini tummy tuck, also known as a partial or modified abdominoplasty, is a procedure designed for individuals who need skin and fat removed but do not need the surgeon to make a new belly button. A mini abdominoplasty results in less scarring than a full abdominoplasty, because it doesn't usually require muscle tightening.
A dermolipectomy is a procedure designed for patients who have a lot of extra skin and abdominal fat and need to change the location of their belly button. Men or women who have achieved dramatic weight loss and now have a lot of excess skin are the best candidates for this procedure.
Panniculectomy is a surgical technique that removes excess fat and skin on the belly, but does not change the position of the belly button. Panniculectomy tummy tuck surgery also does not tighten the abdominal muscles.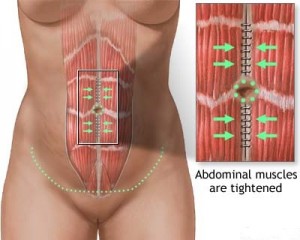 A reverse abdominoplasty removes excess fat and skin above the belly button area. This procedure can be performed in conjunction with a breast reduction or a breast lift.
A full abdominoplasty is the most invasive of all tummy tuck operations. It is intended only for those individuals who have very loose abdominal muscles and large amounts of excess skin to be removed. The abdominal muscles are tightened and then sutured together, and a new belly button is also created.
Tummy Tuck Scarring
Be aware that tummy tuck surgery will leave scars. The amount of scarring after a tummy tuck depends on how much excess skin is removed, the elasticity of your skin overall and the skill of your tummy tuck surgeon.
Tummy tuck surgery is performed through a "bikini-line incision" which may extend from hipbone to hipbone for a fully tummy tuck. In the case of a "mini-tummy tuck," the incision is usually smaller, similar to a C-section scar. Most tummy tuck surgeons try to make incisions where the resulting surgical scar is hidden by underwear or a bathing suit.
If you are worried about scarring after a tummy tuck, you should talk to your surgeon about the types of incisions and their placement during your initial abdominoplasty consultation. Look at tummy tuck before and after photos in order to understand more clearly how much scarring can occur before making the decision to have a tummy tuck performed.
(published June 23, 2011)