Saturday, November 25th, 2023
by Thomas G. Kotoske, Cosmetic Surgeon

An increasing number of women are choosing cosmetic surgery to reverse the impact of childbearing and age on their bodies. A variety of cosmetic surgery procedures are now available to change the contour and shape of the breasts, abdomen, and other parts of the body.
These body-contouring procedures include breast augmentation, abdominoplasty (tummy tuck), and liposculpture with microtumescent liposuction. At the Cosmetic Surgery Institute, these are the three main cosmetic procedures that comprise what we like to call the "Mommy Makeover."
Breast Augmentation
Breast augmentation is a surgical procedure that enhances the size of small breasts, underdeveloped breasts, or breasts that have decreased in size or fullness following the birth of a child.
Fuller breasts are achieved by placing an implant behind each breast. During the procedure, an incision is made in one of three possible locations. The implant incision can be made:
in the crease under the breast,
around the areola (the darker area of skin surrounding the nipple), or
in the armpit.
Each of these incisions may have certain advantages or disadvantages. The final decision on where the incision is placed should be reached after a discussion with your cosmetic surgeon.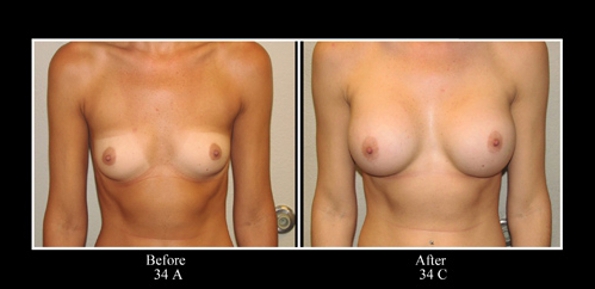 The breast implants currently used for cosmetic breast enlargement are usually saline implants. Another type of implant made from silicone gel is usually reserved for women who need breast reconstruction after cancer surgery.
Silicone gel implants may also be used in women who are having secondary or atypical breast enhancement surgery.
The implants can be placed directly under the breast tissue (on top of the chest muscles), or underneath both the breast tissue and chest muscles.
Again, there are advantages and disadvantages to each of these methods and you should discuss the differences in greater detail with your cosmetic surgeon.
Another option women have with breast enlargement is the shape of the implant. Improved designs have led to the introduction of what are known as "high profile" breast implants. When viewed from the side, these implants appear to project farther out and help to tighten up excess breast tissue.
Depending on which type of implant is used, the new breast can be created in different shapes.
Once again, discuss with your plastic surgeon to see if these new anatomically-shaped implants will give you the more natural-looking breast enhancement you desire.
Tummy Tuck
Abdominoplasty (tummy tuck) is a surgical procedure commonly done to get rid of excess skin and fat in the tummy area, and to tighten the muscles of the abdominal wall.
In women who have had one or more babies, or who have gained and lost large amounts of weight, the skin and fat in the abdominal area can become loose and flaccid.
Unfortunately, no amount of exercise can be done to eliminate this hanging, loose skin. And because the muscles of the abdomen have been stretched, an unsightly bulge of the abdomen can also occur as the intestines push forward from the inside.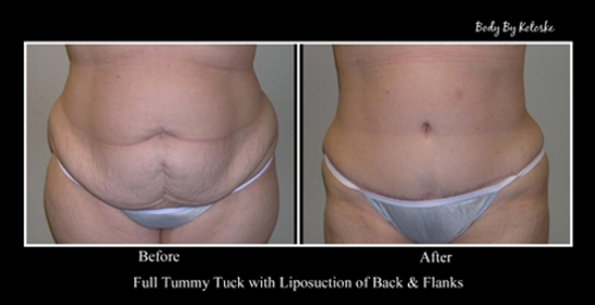 A tummy tuck procedure can help tighten these muscles to create a firmer, flatter abdominal wall. At the same time, any excess fat and loose, hanging skin can also be removed.
Many times liposuction is combined with abdominoplasty to remove unwanted fat from the hips and other areas, creating a sleeker body line overall.
Liposuction
Liposuction, which is also known as lipoplasty or suction lipectomy, is a surgical procedure for removing unwanted fat from specific areas of the body.
Common treatment areas for liposuction are the upper thigh area ("saddlebags") and the sides of the stomach ("love handles").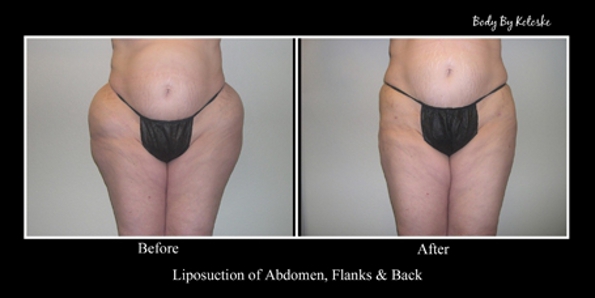 Other treatment areas include the face, neck, hips, buttocks, thighs, knees, arms and ankles.
While no method of liposuction is a replacement for healthy nutrition and regular exercise, liposuction can help remove stubborn areas of fat that traditional weight loss methods fail to reach.
The latest technological advancement in liposuction is called microtumescent technique with liposculpture. Using very small cannulas, fat is sculpted away with minimal down time and quicker recovery.
After liposuction, the majority of patients are back to work in a week. A support garment is worn for three weeks and no exercise should be performed during this period.
Mild bruising and swelling are to be expected along with potential changes in sensitivity, contour and texture of the skin.
Although problems following liposuction are unusual, it is important that every patient have a good understanding of the procedure itself, the different options available and the possible complications.
Often a combination of procedures can be used to alter one particular area. For example: micro tumescent liposuction and abdominoplasty will often be used together to re-contour the abdomen and waist area.
As in all cosmetic procedures, a woman's age, general health, and the shape, size, and skin quality of the particular area to be treated are major factors in determining a satisfactory outcome.
(published July 11, 2013)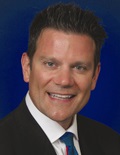 Dr. Thomas G. Kotoske is a national lecturer on topics in plastic and reconstructive surgery, as well as an adjunct clinical professor at various medical schools. He has been recognized as "America's Top Physician" by the Consumers' Research Councils of America and named a "Top Doctor" by PHOENIX Magazine. For further information on treatments for the face or body performed at the Cosmetic Surgery Institute or to view actual before and after photos which have not been retouched, visit www.bodybykotoske.com or call (623) 516-2639.