Wednesday, September 20th, 2023
by Kent Brewer, Fitness Consultant

As long as you know what you are looking for, buying the best mountain bike to suit your needs is actually pretty easy. For some folks, it may take a bit of time, but others may find just what they are looking for in a matter of days. Take note of the following recommendations to help you find the mountain bike that is best-suited to your level of ability and motivation.
How Much Can You Afford?
Good mountain bikes are not cheap, but if you prepare a budget ahead of time, you stand a good chance of getting what you want. Be prepared to spend at least 350 dollars, often a lot more.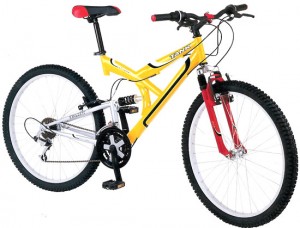 At the end of the day, mountain bike prices are dictated by the brand, materials and the type of features. The best mountain bike under $500 is going to have fewer features than the best mountain bike under $1000, that's for sure.
If you are just starting out and can't afford a lot of money for a mountain bike or if you are just a beginner, then there are plenty of bikes at reasonable prices that won't empty your wallet.
At the end of the day, it depends on how much you want to spend. One basic fact about buying mountain bikes is that models from the previous year will be cheaper.
There are usually two options in mountain bikes, the "hardtail" type and the dual suspension type. Since hardtails do not have a rear suspension, they will normally be substantially cheaper than "dualies."
But if you are an experienced rider and want to go on mountain biking trips, you may want to consider a more expensive bike. Because high-performance mountain bikes for are priced a little higher, be sure to shop around at different bike shops to get the best deal.
What Kind of Mountain Biker are You?
There are a wide variety of bikes on the market, but you should base your decision on the type of riding you plan to do. For example, there are all-riders mountain bikes, cross-country mountain bikes and dirt-jumping mountain bikes, to mention a few.
If you can't decide which type is right for you, then inquire at your local biking and ask the staff to give you some advice. Most people choose the all-riders bike because it can be ridden on any type of road or terrain.
If you are just starting out, it's best to make an honest assessment of your physical fitness and abilities. A good beginner's mountain bike made by a major bike manufacturer like Trek, Giant or Schwinn may be your best choice.
Look for Mountain Bike Discounts
If you take your time, you should be able to find a good bike at an even better price. Search online for mountain bike deals, and also check your local newspaper. The best mountain bikes for women can often be found this way.
Many websites sell cheap mountain bikes online. For example, you can find Micargi and Firmstrong bikes at a significant discount. There are also bulk discounts to people or businesses who are willing to purchase ten or more bikes.
There also kids mountain bikes available online. By doing a careful web search, you should be able to find Landale mountain bikes, FTR mountain bikes, Navigator 15 Speed bikes, and more.
Keep in mind that when you buy cheap mountain bikes online, the sellers will ship their mountain bikes dismantled, meaning you will have to put the bike together when you receive it.
Also, don't be afraid to negotiate with your local bike shop in order to get a better price. In the current economy, there are a lot of discount mountain bikes available. The best mountain bike brands can often be found on sale, so you take your time.
Read Mountain Bike Reviews
Reviews of mountain bikes in biking magazines can be of great help when trying to decide on a bike. Feedback from experienced mountain bikers as to which brands they like best should not be ignored.
Also try to peruse mountain biking forums to get some unvarnished points of view on the best mountain bike tires, best mountain bike saddles, and so forth. If you take your time and do your research, you should be able to find the best bike for your particular needs.
Mountain bikes have improved a lot since the days of front-suspension-only and V-brakes. Bike technology has evolved substantially, with a new focus on maximum performance, comfort and efficiency.
Options to choose from include wheel size, suspension type and component quality. It may be difficult to narrow down your choices for the top mountain bike, but as with any major purchase, you need to ask yourself what are your particular needs and which model will satisfy them.
(published February 23, 2011)