Wednesday, September 20th, 2023
by Elizabeth Clark, Beauty Consultant

Everybody wants to look slimmer and more attractive, no matter what your size. Shapewear is a great choice for plus-size men and women, but also works well for anybody who wants a slim and more attractive figure under their clothes.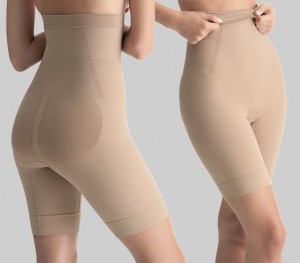 By improving your body shape underneath, whatever you wear on top will look a lot better. Shapewear control garments can give your body an hourglass shape without having to spend all that time at the gym or health club.
Body shapers give your body a smooth line without the uncomfortable feel of a corset or girdle. Some of the best brands of shapewear include The Body Wrap, Flexees, Assets by Sara Blakely and Spanx.
Shapewear Fabrics
Sales of shapewear are increasing due to the introduction of new fabrics. Technological advances in controlwear materials mean that the era of the old-fashioned, uncomfortable corset is behind us. These days, some people wear shapewear all day long without any discomfort.
Control garments with names like DuMi shapewear have compression built right in to the material. There are other brands of shapewear like Miraclesuit that can make you look like you've lost ten pounds when you put them on.
Controlwear for a Slimmer Waistline
A lot of us carry extra pounds around the waist, and shapewear can help to shrink your waistline. The best shapewear garment should start at the bustline or chestline and end at your thighs. This will give you the hourglass body shape your are seeking and you'll be able to wear more fashionable clothes. Celebrities like Kim Kardashian and Caitlyn Jenner are rumored to use shapewear to give themselves a more attractive body line.
Body Shapers for Women
Shapewear helps to slim, flatten and enhance many body areas like the stomach breast, waist, hips, thighs, and buttocks. Shapewear garments are becoming a substitute for bras and panties for a lot of women.
This is a new trend in body shapers and women's shapewear, as many ladies are pleased with their new appearance. If your thighs are too big, then shapewear that slims your thighs can help make your legs look slim and sexy.
Compression garments that look like biker shorts can help to reduce the size of your thighs and buttocks, meaning your clothes will fit better. There are even shapewear swimsuits available!
Popular Shapewear Colors
Black and nude are the most popular shapewear colors. Nude controlwear is popular for weddings and other occasions where light colors are worn. Black color shapewear is more often worn in the winter months.
Other popular colors are blue/navy shapewear, brown shapewear, clear shapewear and gray shapewear. For younger women, light blue, orange, pink and purple shapewear are big sellers.
Shapewear Lingerie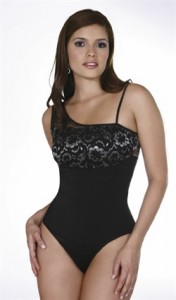 Shapewear panties, thongs and teddy can help you look your sexy and romantic best. By hiding cellulite and other fat, you will no longer feel shy about showing off your bustline and booty. Your slimmer and more attractive body line will please your boyfriend and give you more confidence in the bedroom when it's time for romance.
Buy Shapewear on Sale
If you want to save money on shapewear, it's best to look for shapewear online. There are many controlwear manufacturers that have their own websites and may offer special discounts on body shaper garments, including special coupon codes.
A shapewear gift certificate is a great way to celebrate a birthday or anniversary. Many shapewear manufacturers provide gift guides on their websites.
Shapewear Technology: Say Goodbye to Girdles and Corsets!
Body shapers help to contour your figure into a more attractive shape without seams, and without restricting your circulation. For those people who are plus size, shapewear can provide a slimmer and more youthful appearance. It's a good alternative to Botox or other expensive beauty treatments.
What used to be known as girdles and foundations is now known as shapewear. Modern shapewear is virtually seamless thanks to sophisticated knitting techniques. The latest shapewear can flatten your tummy, lift and smooth your bum and support your breasts – all without seams.
By using compression rather than seams, the latest shapewear technology by makers such as The Body Wrap and Spanks creates a smooth body line that women love. And all without the discomfort that girdles and corsets were known for in the past.
Plus-Size Bodyshapers for a Slimmer Silhouette
Bodyshapers are a great choice for slimming shapewear for plus-size ladies who want to instantly slim down their silhouette. Bodyshapers from well-known brands like Silhouette, Triumph and Gok Wan are ideal for plus-size women.
Tummy control pants can help to slim down your tummy and bottom, while control tights feature a high waist that hides lumpy areas, allowing you to wear tight-fitting tops without worrying about revealing too much. It's easy to change the look of an outfit by putting on a pair of fashion tights and instantly slimming down your body line!
(published April 14, 2011)