Friday, June 2nd, 2023
by Linda Wright, Fashion and Beauty Writer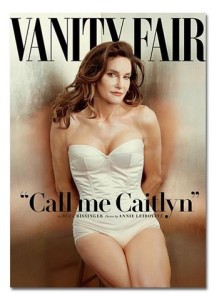 Caitlyn Jenner, 65, who as Bruce won an Olympic gold medal in the decathlon, has been in the public eye for decades. As Bruce Jenner, she appeared on the cover of Playgirl. She is also an author, an actor and was most recently a part of the Kardashian family's reality television series.
In 2015, news reports emerged that Bruce Jenner was in the process of transitioning to a woman. As a result, Caitlyn Jenner reportedly set to star in a beauty campaign for MAC Cosmetics. She would follow a long list of A-list campaign stars including Lady Gaga, Rihanna, and Christina Aguilera as part of the company's Viva Glam beauty campaign.
A spokesperson for MAC said that while it has not yet signed Caitlyn, "the brand admires her beauty and courage." It has also been announced that Caitlyn has signed with talent agency CAA. At this point, it's safe to say that Caitlyn Jenner could follow a similar path as her model daughter Kendall Jenner.
Just days after Caitlyn Jenner appeared as a woman for the first time on the cover of Vanity Fair, she is already reportedly being considered to star in her own beauty ads. The Today show aired a sneak peak of Caitlyn's E! documentary, "I am Cait," in which she applies make-up and wears nail polish:
Viva Glam is no stranger to controversy. MAC has also featured drag queen RuPaul, singer Elton John, and lesbian singer K.D. Lang to promote the project, which donates 100 per cent of the proceeds to the MAC AIDS Fund. The line of cosmetics includes both lipstick and lip gloss, and the sale of one product can provide a pair of shoes for a child orphaned by AIDS.
Caitlyn would be the perfect spokesperson because Viva Glam is about working with and celebrating celebrities that are bold, influential and not afraid. A spokesperson for MAC Cosmetics says that as of right now, they have not signed Caitlyn as a spokesperson, but support her coming out. MAC Cosmetics is a brand that embraces all ages, all races and all sexes, and is a longstanding supporter of the LGBT community.
Estee Lauder, which owns MAC Cosmetics, already has another Jenner girl on its payroll. Caitlyn's daughter Kendall is signed to Estee Lauder and has appeared in several of the cosmetic giant's advertising campaigns.
Caitlyn Gets the Full Beauty Treatment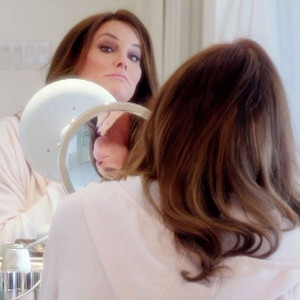 In a short preview of E!'s documentary that aired on the Today show, Caitlyn admitted that getting the full beauty treatment is still new to her. "You start learning the kind of the pressure that women are under all the time about their appearance," she said while putting on her make-up. "A couple of weeks ago, actually a professional came in and did my makeup. What a difference!"
The former Bruce Jenner is sending clear messages about her identity and image. Jenner began the selection process for a new name about two years ago and chose Caitlyn over Heather or Cathy.
Many observers see meaning in the fact that Jenner is spelling her name with a "C" instead of a "K." This sets her apart from the other famous women in her family who spell their first names with a K: ex-wife Kris and stepdaughters Kourtney, Kim and Khloe Kardashian, as well as Jenner's own daughters Kendall and Kylie.
The name Caitlyn is an Irish name believed to mean "pure," and is Jenner's way of being true to herself.
Caitlyn Jenner's Style
Caitlyn, in her first cover shoot for Vanity Fair, went with an Old Hollywood classic look that is very old school, pinup-inspired and much more of a 1950's classic style. Her hairstyle and wardrobe choices reflect her personal style, which is elegant, glamorous and in many ways, timeless.
The transgender icon is quoted as saying, "I was always worried – you never want it to look like a guy in a dress," she said. "If you're going to … come out, you really have to look the part. You have to look very feminine."
Caitlyn Jenner Breast Augmentation
Caitlyn has had surgical procedures to make her face more feminine, and also has had her breasts augmented. She chose a smaller cup size, so as not to look unnatural. Her once masculine arms are now more toned and delicate.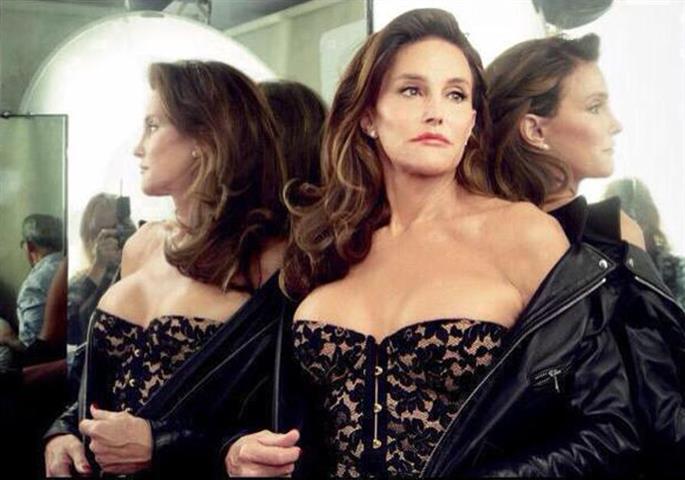 Caitlyn's True Identity
After suppressing his true gender identity for decades, the Olympic-hero-turned-reality-star finally seems to be free as the transgender Caitlyn.
"I'm so happy after such a long struggle to be living my true self," she said Monday on Twitter. In another tweet Tuesday, she joked, "What the hell am I going to wear?" to the ESPY Awards in July.
In conclusion, Caitlyn says, "Bruce always had to tell a lie. He was always living that lie. Every day, he always had a secret, from morning till night. Caitlyn doesn't have any secrets."
(published June 3, 2015)