Thursday, November 30th, 2023
by Dr. Michael Fiorillo, Plastic Surgeon

When we are young, our skin is smooth and elastic with a healthy glow. As we age, our body's natural collagen and hyaluronic acid levels decrease and our skin becomes looser and less elastic. This causes our skin to wrinkle and appear older than it should.
Restylane® is a clear transparent gel composed of hyaluronic acid, a natural substance that is found throughout your body. Manufactured by a unique method in Sweden, Restylane contains hyaluronic acid, which gives volume to your skin and has been used as a lubricant in arthritic joints.
Hyaluronic acid has even been used during eye surgery to protect the retina. The hyaluronic acid found in Restylane is not of animal or human origin, meaning there is no risk of disease transmittal or allergic reaction, which might occur with other cosmetic fillers. There is no need for skin tests and the risk of side effects from Restylane is very low.
FDA-approved, Restylane is formulated to conform to your skin, thereby smoothing wrinkles, sculpting lips or shaping facial contours. Because of its unique ability to bind with water, Restylane is able to perform for many months within your skin.
The most popular areas for a Restylane treatment are the glabellar lines (which are between the eyebrows) and the nasolabial folds (running from the base of the nose to the mouth). When used for lips or facial contouring, Restylane adds shape and volume to the area. Restylane has the ability to create "volume" under your wrinkles, which are then lifted up and smoothed out.
Since no pre-testing is necessary, a Restylane treatment can be performed almost immediately after arriving at your doctor's office. The treatment usually takes about 30 minutes depending on the type of wrinkle corrections you desire.
Most people find Restylane injections relatively painless, but if you wish a topical anesthetic can be applied to the area before your treatment. You will be able to see the results of Restylane as soon as your treatment is completed.
After Restylane Treatment
During the first 48 hours after your treatment, do not rub or massage the treated area. If you have had a lip enhancement, avoid puckering your lips for the first two or three days after the treatment.
Do not expose the treated area to intense heat (e.g. in a tanning bed or by sunbathing outside) or to extreme cold for the first few days after the treatment in order to avoid the risk of inflammation. However, once Restylane has integrated itself into the body, it will adjust to your body's normal temperature.
Restylane Results
The results of a Restylane treatment will be seen immediately. The length of time a Restylane treatment lasts is very individual and depends on many factors, such as the structure of your skin, your age, the degree of perfection expected and the injection skill of your doctor.
My experience as a cosmetic surgeon indicates that touch-up and follow-up treatments will add to the duration of Restylane. Most patients choose to have a second treatment within a year after the treatment of wrinkles and folds and within 6 months after a lip enhancement.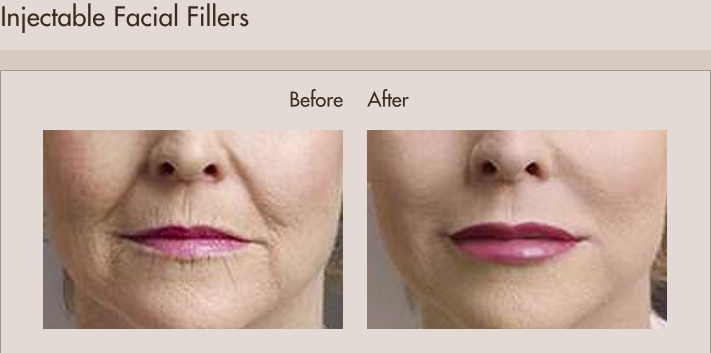 Perlane® Dermal Filler
Perlane® is an injectable dermal filler used in cosmetic procedures to lessen wrinkles and reduce lines and other imperfections of the skin. The natural ingredients in Perlane and its long-lasting results have quickly made it one of the leading cosmetic dermal fillers in use today.
The American Society for Aesthetic Plastic Surgery says that hyaluronic acid-based fillers are the fastest growing non-invasive cosmetic procedure in the U.S.A. Like other dermal fillers, Perlane is easy, safe and affordable.
Perlane is particularly effective in treating deeper facial lines and wrinkles, not to mention fine lines and other imperfections of the skin.
Perlane gives great results on the nasolabial folds, which are the lines which stretch from the nose to the corners of the mouth. Perlane is normally used to lessen fine lines around the lips, mouth, nose and forehead, including crow's feet, frown lines, worry lines and smile lines.
Your cosmetic surgeon can also use Perlane to enhance and augment the lips or chin, fill in cheek depressions, redefine the borders of your lips, soften acne or other facial scars or depressions. Most of my patients achieve their desired results with just one Perlane injection – however some require more than one.
An Alternative to Collagen Injections
Perlane is a newer and safer alternative to collagen injections, and gives results that last nearly twice as long, with little to no side effects. The natural consistency of Perlane contains no animal products and does not require any type of allergy testing.
Perlane is manufactured from non-animal stabilized hyaluronic acid (NASHA) gel, a transparent, adjustable material that can easily mold itself to the contours of the face. Hyaluronic acid is a natural compound that already exists in the human body, where it functions to give the skin its fullness.
As time passes, the amount of hyaluronic acid in our bodies decreases and our skin begins to lose its fullness and firmness. When injected, Perlane gel combines with your skin tissue's existing water molecules to increase its fullness and volume.
How Perlane® differs from Restylane®
Perlane is part of the Restylane family, but Perlane contains larger gel particles that help lift and fill deeper depressions in the skin. Perlane is also compatible with other products, such as Restylane and BOTOX® Cosmetic.
Perlane differs from Botox in that Botox is a drug that serves to relax facial muscles. In contrast, Perlane often acts as an ideal "middle layer" between other products for use in deep wrinkles and folds.
While its effects are not permanent, Perlane is a long-lasting and safe product. The effects of Perlane can be seen immediately and usually last from six to eight months.
Actual results depend on a patient's skin, lifestyle and age, but Perlane tends to last longer than most other dermal fillers. Repeat sessions are required once or twice a year, but the sessions are short and simple.
How Perlane Injections are Performed
Because it contains no animal products and allergy testing is not necessary, there is no waiting period and Perlane procedures can be performed right away. Most injections are completed within thirty to forty-five minutes.
A Perlane injection is performed by a physician or a nurse practitioner using a very fine needle. Pain is minimal, but a local or topical anesthesia can be used if the patient requests it.
The side effects of Perlane are minimal, and it requires no special care following the procedure. Because hyaluronic acid is a natural substance, allergic reactions are extremely rare.
Slight swelling, itching, redness or bruising may occur, but usually goes away after a few weeks. Patients can go back to work and engage in normal activities immediately after the Perlane procedure.
Perlane Results
The procedure returns skin back to a smoother, younger appearance that will last longer with repeated treatments. While the results of Perlane injections are not permanent, they are easy to maintain over time. The same peak volume can be reached with less and less hyaluronic acid during repeat procedures.
Among all of the dermal fillers available today, Perlane stands out as one of the most successful and safest treatments. It works especially well for moderate to severe skin depressions.
Perlane sets a new standard in cosmetic procedures by using non-animal, natural means to rejuvenate skin and restore a youthful and lively complexion. The safety and simplicity of Perlane may make it just the right cosmetic procedure for you.
(published April 23, 2012)
Michael Fiorillo, M.D., is a highly-respected and well-known New York plastic surgeon.

Board-certified in Plastic and Reconstructive Surgery, Dr. Fiorillo graduated with his medical degree at the top of his class at Chicago Medical School, and completed residency training in general surgery at Staten Island University Hospital. Dr. Fiorillo's New York plastic surgery practice is located at 350 Hudson Street, New York, NY 10014, with additional offices in Montvale, NJ and Pearl River, NY and can be reached at 866-537-0954 or http://www.drfiorillo.com.