Friday, June 2nd, 2023
by Dr. Barbara Hopkins

If your face is showing its age, then you probably are looking for a way to remove wrinkles and erase frown lines. In 2002, Botox was approved by the FDA for the treatment of mild to severe frown lines between the eyebrows.
In addition to frown lines, Botox can help to lessen or remove crow's feet and furrows on the forehead. Botox is one of the most popular cosmetic beauty procedures performed in the United States today.
Some people confuse Botox with injectable fillers like Restylane, Radiesse and Juvederm. Be aware that dermal fillers work differently than Botox: they "plump up" facial tissues so that wrinkles and fine lines diminish or disappear.
Your doctor can help you decide which product or products will work best for your particular case. As a general rule, Botox is used primarily in the upper portions of the face, while dermal fillers are used mostly in other areas.
How Botox Works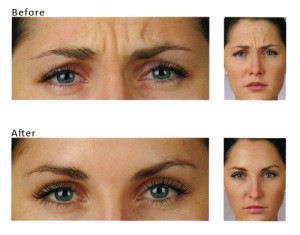 Botox works by paralyzing certain facial muscles in order to prevent them from contracting. Botox results can be seen within a week after treatment and will last around three months.
Botox blocks acetylcholine, a chemical in the body that controls the contraction of muscles. New wrinkles can no longer form, because the muscles that create wrinkles have been temporarily paralyzed. Existing wrinkles will also gradually fade away.
Botox Before and After Photos
If you are considering getting Botox shots, then you ought to take a look at Botox before and after pictures to get an idea of what the results look like. For example, photos of Botox before and after forehead wrinkles can give you a realistic idea of what kind of results to expect.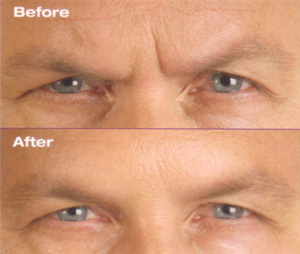 Another good idea is to visit your local cosmetic surgeon or dermatologist and ask to see their before Botox and after Botox photos. Dermatologists always keep a photographic record of patients whom they have treated.
You can also look for Botox pics online in order to learn more about this wrinkle-remover. Many cosmetic surgery clinics have their own websites with a photo gallery of Botox for crows feet and forehead wrinkles, and also Botox before and after videos.
Does Botox Hurt?
If you are planning to have Botox treatments, keep in mind that they should only be performed with sterile needles in a dermatologist's office or medical spa. Botox is usually injected after numbing the area with local anesthesia.
There may be some initial discomfort from the shot, but Botox needles are very thin. Thus a Botox session is virtually painless, and the entire procedure can usually be finished in twenty minutes or less.
Selecting the proper injection points is vital to the success of the treatment. Your cosmetic surgeon will choose several injection points located where the muscle contracts, so that wrinkles will no longer form.
After the treatment, you can resume normal activities right away, but be sure to stay out of the sun and wear a hat if you do go outside. It takes up to a week for Botox to take effect, so be patient for the results.
Botox Side Effects
Side effects of Botox include nausea, flu-like symptoms, headache, nausea and minor irritation where the injections were done. Very occasionally some people have muscle weakness or droopiness of their upper eyelids. This usually goes away after a few days.
There are a few steps you can take to reduce the likelihood of Botox side effects. First, make sure you are dealing with a licensed and experienced practitioner. Cosmetic surgeons usually receive the best training and are the most qualified doctors to administer Botox treatments.
Avoid at all costs "Botox parties" where no health professional is present. Also be skeptical of Botox discounts promoted by chains of clinics who are only seeking to capture new clients.
Another step you can take ahead of time to avoid potential problems is to discuss your health history with your doctor freely and openly. For example, certain medications can cause negative reactions with Botox.
Also keep in mind that the toxin contained in Botox leads to a build-up of antibodies in your system. That means that the more treatments you have, the less effective Botox will become.
There are also few studies tracking the neurological and physical long-term effects of Botox injections. Some neurologists have expressed concerns about the potential effects of Botox on the brain, muscles and nervous system.
If you are considering having Botox, then be sure to learn as much as you can about the procedure. Look at Botox before and after photos and also make sure you thoroughly research the background and qualifications of your cosmetic surgeon before proceeding.
As with any cosmetic procedure, be it surgical or non-surgical, receiving Botox injections requires a knowledge and acceptance of the various risks and possible side effects. No medical procedure is without some risk and the best candidates for success are those who maintain a realistic outlook for the results of Botox treatments.
(published March 10, 2011)