Thursday, November 23rd, 2023
by Stephanie VanHeel, Fitness Instructor

As moms we see all that our children can be and do in their lives because of our overwhelming love and hope for them. The belief that success is possible for our children is a wonderful gift for them to receive; one we give them freely and often.
But just as easily as we believe in what our children are capable of, many of us come up short in our belief in the possibility of our own success.
Do you believe you are capable of being successful? In the context of health and fitness, what does success mean to you?
There are likely a list of experiences and beliefs that are forming your ideas of what it means to be successful at being healthy and fit. Consider these questions in determining if your capability to achieve an active lifestyle is being stopped within yourself:
Have you had a negative experience while exercising in the past?
Do you have a role model in your life that you see as similar to you, who has achieved success with exercise?
Is there someone in your life that you trust and respect that is giving you encouragement in your exercise routine or goals?
Before you begin exercising do you encounter feelings of fear, anxiety or frustration?
When you exercise do the feelings of pain or fatigue cause you concern?
If you determined that there are some factors you need to overcome on your journey to success in health and fitness, I want to encourage you. It is possible to learn to have a physically active life by incorporating strategies that will turn your efforts into a long-lasting good habit.
One strategy is to make exercise as convenient as possible. When making choices in the type of exercise activity you would like to participate in, consider factors of location and schedule conflicts.
One helpful tool in this area is to have a bag packed each day with exercise clothing and shoes. Even if you do not workout directly before or after work, it is affirming to your goal to be 'prepared' for the times when you are able to exercise.
Another strategy is to surround yourself with other people who have similar health and fitness goals. It is encouraging to see others be successful and by spending time together, natural support systems will develop.
In addition to the physical changes you can make, there are also some mental strategies that can help you overcome road blocks you encounter on your journey to a healthy lifestyle. A great way to move past a bad experience you may have had previously is to set a new goal for yourself.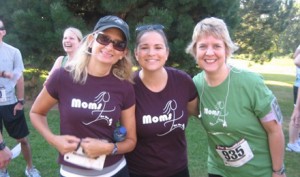 For instance, if you have never run a 5K, this is a goal that many people have found extremely motivating. It is also beneficial to have a coach or trainer who is giving you positive feedback on your progress. Hearing his or her words of encouragement and reminders of the benefits to exercise will help keep you going.
For many mothers, personal trainers may be outside of their budget. But group fitness classes or teams can provide the convenience, support, goals and feedback to get on and keep you on track to success. Just as you believe that your children can be successful, give yourself the gift of believing in yourself!
(published March 27, 2012)

Stephanie VanHeel is fitness instructor for Moms On The Run, a group fitness program that offers women the opportunity to be active while working together with certified coaches and other women who quickly become your friends. To learn more about Moms On The Run and see pictures of the program in action, please go to www.MomsOnTheRun.com.