Monday, September 25th, 2023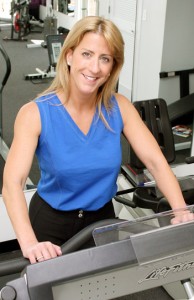 Lisa Lynn's approach to weight loss is based on personal experience, and her dedicated study of the metabolic effects of food, specific exercises and the smart use of supplements. As a teen, she she persevered to lose 40 lbs. (and keep it off!) despite her under-active thyroid.
This experience inspired Lisa to help others find solutions to their specific fitness and wellness needs. Over the past 25 years, Lisa's work with body-building and fitness experts, including Dr. Fred Hatfield, has helped her understand how specific combinations of diet and exercise can help others achieve the look they want—from simply slimming down, to gaining lean, ripped muscle.
Lisa specializes in "metabolic resistance," and her fitness strategy is quite simply "maximum results for the time crunched."
Lisa's expertise includes fitness therapy, advanced stretching, yoga, weight and resistance training, cardiovascular and aerobic training, circuit training, cross and interval training, corrective posture therapy, senior fitness, sports conditioning to name a few. Lisa can also provide performance nutrition and nutrition for weight loss, as well as food therapy and behavioral modification.
What makes Lisa different than other trainers is that she understands what is feels like to struggle and fight with her weight. She has been 40 lbs. overweight herself. Lisa says she was raised by "an ice cream-eating, couch potato family," and not an active, healthy-eating family like many people assume.
Lisa started taking aerobics class when she was just 15 years old on her quest to lose weight. She began teaching six months later.
Lisa says that changed her life forever. She not only lost weight and began to see big changes in her body, she also noticed that her depression lifted and her whole life improved.
Shortly after, Lisa was hired to help conduct a weight loss study/research project. It was at that point Lisa learned the most effective, time-tested strategies for losing body fat and weight together.
Lisa is still passionate about helping others today because she knows how it feels to be overweight both physically and mentally.
Word soon got out about the physical transformations Lisa was creating, and this is how Lisa became one of the most sought-after trainers for people who get paid to look good.
From major movie stars to swimsuit models to the average man or women, her clients range in age from 6 to 86. Lisa has helped people get results and turn their lives around with the perfect mix of encouragement, humor and know-how. Just ask her most well-known client of more than 13 years!
Here is what Martha Stewart has said of Lisa: "She is the only trainer who has ever made a BIG difference. Lisa not only preaches what to do she lives it."
Over the past eight years, Lisa has built her training career and developed the LynFIT Program. The LynFIT Program is designed to help boost your metabolism, as well as help your body change the way it processes food. By adding the LynFIT Shake and lots of veggies, you will be amazed at how fast your body responds.
Lisa continues to work as a personal fitness trainer/nutrition guru in and around Connecticut, and remains extremely dedicated to helping people get in the best shape of their lives.
Lisa appears regularly on Sirius Radio®. She has also appeared in publications such as Muscle Magazine, Muscle Media, Physique Forum, Iron Man, Parillo Performance, Martha Stewart Living, Fitness Magazine, and American Health.
Lisa is always available to help you on your journey to becoming the fittest, healthiest you as well as for lectures and training. She regularly responds to her e-mail, and welcomes anyone to send her their fitness and health questions. E-mail Lisa at [email protected].
Visit Lisa's website, lynfit.com, for information about her LynFIT Program, her great fitness and nutrition products, and much more.
(published April 25, 2012)