Wednesday, September 20th, 2023
by Brigid Titgemeier, M.S., Public Health Nutrition

Fruits and vegetables undoubtedly top the charts for the most nutritious foods available to humans. Numerous studies have shown that they provide a variety of important nutrients that we need to live longer, healthier lives.
While Americans are aware of these facts, many opt out of the incredible nutrients and fall short of the recommendation to consume at least five servings of fruits and vegetables every day.
In fact, a recent report from the Centers for Disease Control and Prevention (CDC) indicates that being aware of the health benefits is simply not enough to spark a change in behavior.
The report found that the average American consumes fruit about 1.1 times per day and vegetables 1.6 times per day. People who lived in states where fruit and vegetable intake was highest also scored higher than the national average in healthy retailers and farmers' market density.
According to surveys from the United States Department of Agriculture (USDA), the density of farmers' markets has continued to expand nationally. Between 1994 and 2010, the average number of farmers' markets in the United States tripled from 1,755 to 6,132.
If your fruit and vegetable stats look anything like the average American, you might be missing out on more than you realized. Get in on the health and beauty benefits of fruits and vegetables by changing up your routine – venture out of the supermarket and into your local farmers market instead!
While you're there, enjoy these five fresh benefits that farmers' markets have to offer:
1. Eat Fresh and In-Season
When fruits and vegetables travel from all over the world to get to your grocery store shelves, they lose a lot of fresh flavor, not to mention valuable nutrients.
The pure, sweet taste of biting into a fresh tomato or a ready-to-eat peach from the farmers' market is much more refreshing than grocery store produce.
Additionally, buying in-season can be more nutritious because the food travels straight from the field to the market, allowing less time for nutrient loss.
2. Get More for Your Money
It is a common misconception that farmers' markets are more expensive than grocery stores. In fact, in-season food prices at the farmers market can be pretty tough to beat.
More and more states are participating in the Women, Infants, and Children (WIC) Farmers Market Nutrition Program, which provides $24 of vouchers to eligible WIC mothers to use for produce at the farmers' market.
Even if you do not qualify for WIC, here's an idea of just how far $24 can take you: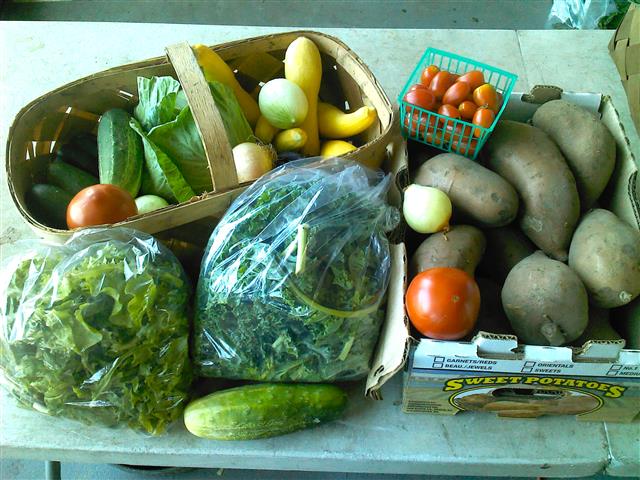 1 bag of mixed lettuce, 1 bag of kale, 1 pint cherry tomatoes, 2 large tomatoes, 4 large cucumbers, 2 lbs. winter squash, 4 lbs. summer squash and zucchini, 2 heads of cabbage, 10 lbs. of sweet potatoes, and 5 onions.
Talk about a good deal!
3. Slim Down for Swimsuit Season
A 2009 study conducted in New York City compared the prevalence of obesity with the density of healthy food outlets versus unhealthy food outlets. Healthy food outlets were considered to be supermarkets, fruit and vegetable markets, and natural food stores.
The researchers found that a higher density of BMI-healthy food outlets such as fruit and vegetable markets was associated with a lower mean Body Mass Index and lower prevalence of overweight and obesity.
Start frequenting the farmers' market and get in tip-top shape this summer. While you're at it, hop on your bike and burn a few extra calories!
4. Gain an Appreciation for Your Food
Learning to appreciate food and where it comes from is a sustainable way to make healthy, long-term changes to your diet.
Directly interacting with the farmers who have grown your food is more meaningful than eating off of a processed food line and being completely disconnected from what you are consuming. Sometimes farmers will offer recipes or preparation ideas which prompts more creativity.
A study from the Journal of the American Dietetic Association looked at fruit and vegetable consumption behavior in a low income population. People who received education on storing and using fruits and vegetables experienced a change in attitude that led a change in behavior.
5. Support Your Local Community
In addition to providing health advantages, farmers' markets also lead to economic advantages. Shopping at a market is a great way to keep your dollars local and support small family farms in your area.
Just remember that vendors at a farmers' market can still ship food in from larger commercial farms, so be sure to ask questions and know who you are buying from!
While the grocery store might provide year-round access to apples, strawberries and oranges, it lacks the fresh, local, and intimate advantages of a farmers' market. Find a local market in your area at www.localharvest.org and experience true healthy living!
(published June 19, 2013)

Brigid Titgemeier is a nutrition assistant at the Cleveland Clinic Wellness Institute. She is a contributor to health and nutrition articles for the Huffington Post, U.S. News and World Report, YouBeauty, and other web outlets. Brigid completed her Masters in Public Health Nutrition and dietetic internship at Case Western Reserve University in Cleveland, Ohio. Her professional interests include plant-based nutrition, field-to-fork initiatives, culinary nutrition, and corporate wellness.