Monday, September 25th, 2023
by Lisa Lynn, Fitness Expert and Weight Loss Specialist

A metabolic cleanse can be a great way to boost your weight loss efforts because it detoxifies your body, thereby making it easier to burn calories.
A metabolism cleansing isn't just about changing your eating habits. It forces you to focus on the "big picture." Which of your lifestyle habits are getting in the way of better health?
Everything we do, including the food we eat, the health supplements and medications we take, the amount of exercise we get … all these things play a role in boosting or slowing down our metabolism.
How do you know if you need to do a metabolic cleanse?
Here are ten important signs that your body is asking you to clean things up:
Feeling tired, lacking energy.
Muscle aches and pains.
Problems sleeping.
Eczema or skin eruptions.
Sick with frequent colds or headaches.
Sinus and allergy problems.
Food cravings.
Bloated – feeling heavy, constipated.
Having a hard time losing weight.
Moodiness or depression.
Doing a cleansing will make it easier to lose weight, and you will also feel better and more energized. But only if you do a metabolism cleanse the right way! The majority of cleanses are done the wrong way and can actually cause damage to our metabolism, thus making weight loss even more difficult.
So how can you tell if the cleanse you are doing is supportive of weight loss? Follow this simple rule: if you can't live on it, then you are damaging your metabolism.
Most popular detox cleanses contain juice and weird ingredients like maple syrup that cause blood sugar levels to spike. Yes, this includes vegetable juicing!
Juicing breaks down the molecules into such small particles that they are digested too quickly, causing your blood sugar levels to spike. These blood sugar spikes raise your blood sugar levels and lead to your body storing fat, specifically around the belly, hips and thighs.
I call this fat around the midsection "the insulin band," and it's proof that you're eating too many of the wrong kinds of carbohydrates and sugars and not getting enough metabolic exercise.
Why Metabolic Cleansing is the Secret to Weight Loss
Unlike other cleanses on the market, LynFIT's Metabolic Cleanse helps lower blood sugar and blood fats like cholesterol. If you're currently taking cholesterol medication, be aware that your numbers may drop and you may be able to go off the medication entirely!

Doing a 48 hour metabolic cleanse is a great way to develop new healthy habits that you hopefully can stick with, while at the same time getting rid of the bad ones!
What makes the 48 hour metabolic cleanse better than all the others? My 48 hour metabolic cleanse is designed to boost your metabolism through synergy. That's because it's high in metabolic-boosting proteins that feed muscle and starve fat!
Most other cleanses are lacking in high quality protein. As a result, your metabolism slows down and you lose muscle.
Muscle is your body's calorie burning machine, so it's vital to protect it by supplying it with adequate high quality protein such as LynFIT's Complete Protein. You also need to do metabolic boosting exercise like my metabolic-boosting workout.
Please don't misunderstand me. I am not advocating eating tons of protein while fasting.
It's actually healthy to give your body a break from digesting certain proteins and focus instead on easy-to-digest proteins such as white fish versus fatty fish like salmon and of course, avoiding chicken or turkey.
Your primary focus during the cleanse should be on eating the foods that your body needs: vegetables and protein, or as I like to call them, green and beige! No cheese, milk or creamers!
Certain Foods and Medications Can Slow Down Your Metabolism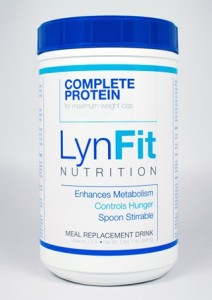 Protein shakes that contain dairy products, soy or inferior protein sources (not mine!) can slow down your metabolism. A simple rule of thumb is that if it's cheap, it's not high quality protein.
High quality whey (like what you'll find in LynFIT's protein bars and protein shakes) is extremely expensive, so check the labels to be sure your shake is low or no fat, is made from high grade whey and is sugar-free and carb-free so that you'll boost your metabolism (and not block your weight loss).
Also be sure to look at all those sleep aids and anti-anxiety medications in your medicine cabinet, including all-natural homeopathic remedies. These can slow your metabolism as well.
You don't have to stop taking them completely, but try to wean yourself off them gradually. Make it a goal to replace them with supplements that support your condition while not interfering with your metabolism.
Follow these 10 steps to succeed with your 48-hour Metabolic-Boosting Cleanse:
Set a goal of sleeping 7-8 hours per night.
Drink 8-10 glasses of pure water daily.
Consume 10 servings of vegetables per day. Remember that cabbage is the king for cleansing!
Take one Raspberry Ketone Cleanse capsule 3 times a day for 2 days.
Perform metabolic-boosting exercise 3 days per week to boost your metabolism. Try to walk as much as possible!
Allow yourself to be hungry. This is a good sign that your body is burning fat!
Stop taking all other supplements apart from the ones suggested here.
Eat foods from the approved list only.
Drink your coffee or tea black.
Use only LynFIT shakes and meal replacement lean bars, as they are designed to boost your metabolism!
Foods that Feed Your Fat Cells – Avoid Them!
Carbohydrates: Except for vegetables, these go straight to your fat cells. Foods like bread, rice, pasta, cereal (including oatmeal), potatoes and beans should be avoided. ALL crackers, cookies and refined products are no-no's.
Liquid Calories: Juices, including fresh juices you have prepared yourself, non-dairy creamers, skim milk, rice milk, soy milk and sports beverages, vitamin water and especially alcohol – all of these pack on the pounds.
Fats: Flax seed, nuts, seeds, avocados, oils, including healthy fats – until our body begins burning fat for fuel.
Dairy Products: All types of milk, yogurt, and cheese should be avoided, even if they are fat free!
Fruit: To lower blood sugar and promote fat loss, try to limit yourself to one or two apples per day!
Metabolic Cleanse: Sample Menu Plan
First thing in the AM: Drink hot water with lemon.
Metabolic Booster ONE: Complete Protein shake made as directed in recipe section.
Supplement BOOST: Add 1 capsule of Accelerator w/Raspberry Ketones and 1 capsule of Cutting Edge to your shake for faster absorption to force your body to burn more fat!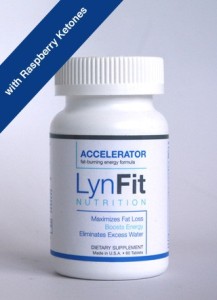 Metabolic Booster TWO: Complete Protein Shake (made as directed).
Supplement BOOST: Take 1 Carb Edge to help block cravings before they begin.
Metabolic Boost THREE: Small Green Apple.
Supplement BOOST: Take 2 Raspberry Ketones.
Metabolic Boost FOUR: Fill ½ your plate with Green vegetables and the other ½ with white fish or Lean Metabolic Protein from list.
Still feeling hungry? That's good! Allow yourself to detox and cleanse your system by not overloading it with excess food. See my list of approved snacks to help you get through the difficult periods of your metabolic cleanse.
Metabolic-Boosting Proteins:
LynFIT Complete Whey Protein
LynFIT Lean Bar
All White Fish
Shrimp
Scallops
Metabolic-Enhancing Vegetables:
All Lettuce
Broccoli
Cauliflower
Peppers
Onions
Spinach
Cabbage
Squash
Mushrooms
Metabolic-Enhancing Fruits:
Small Green Apples
Lemons
"Free" Foods:
Pure Water
All Teas
Green Tea
Black Coffee
Hot Chocolate made with 1 scoop of Complete Protein
"Free" Snacks:
Clear Broth (Gluten & Soy Free)
Sugar Free Fat Free Jello
Sugar Free Fat Free Popsicles
1 LynFIT Lean Bar
Trust me, your metabolism CAN be boosted! And if you learn how to eat and exercise specifically to support your metabolism, you'll boost it faster than you think!
LynFIT's metabolic boosting cleanse is the fastest, safest cleanse on the market. And the best part is it's so safe you can repeat it as often as you need to.
In fact some of my clients feel so much better on it that they follow the cleanse and live on it 2-3 days a week as a way to control their weight and gain health or feel better!
(published June 18, 2013)

Lisa Lynn is a fitness expert and a specialist in weight loss and metabolic disorders. Lisa's approach to weight loss is based on personal experience, and her dedicated study of the metabolic effects of food, specific exercises and the smart use of supplements. Lisa is always available to help you become the fittest, healthiest person you can be, as well as for lectures and training. Visit Lisa's website, lynfit.com, for information about her LynFIT Program, her great fitness and nutrition products, and much more.