Wednesday, November 29th, 2023
by Jill Swanson, Image Expert

Three simple steps will have you styling in no time!
What do you want your image to say when you walk in the door? Polished and put-together? Sassy and stylish? Young and hip?
The easiest way to kick your look up to the next level is to re-invent yourself with accessories, or what I refer to as the "toys of fashion."
Most of us get too comfortable wearing the same necklace or earrings day after day and find ourselves in a fashion rut or feeling frumpy. The answer lies within us …
"Statement Maker" accessories are a wonderful way to look trendy and remain true to yourself without being a slave to fashion fads.
The piece can be a brooch, necklace, bracelet or earrings. They can be something old, something new, something artistic or something uniquely you.
"Distinctive" would best describe this acquired look.
Here are some ideas to help you select the right piece:
1. Choose a Design That's In Tune with Who You Are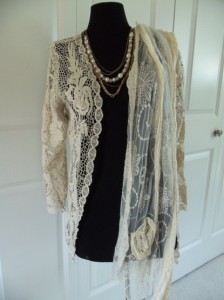 The most wearable statement pieces are the ones that resonate with the wearer.
Are you gentle and heart-driven? Consider yourself more of a romantic who is driven by her passion for soft feminine looks? Rediscover the romance with pearls, lace, ribbons and flowers.
Kindle your nostalgic instincts with true treasures from the past. Hit the antique shops for something vintage like a stylish chapeau with intricate netting and secure it with an old-fashioned hatpin.
Pair a couple of tarnished gold chains with your grandma's pearls and set it off with one of her rhinestone broaches.
When you mingle these accessories with a simple modern day sheath dress or jeans and a white blouse, you've got style that echoes the past and adds polish to the present.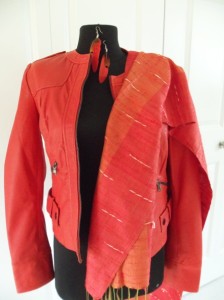 If you are more the earthy and outdoorsy type, or the word artsy resonates with your persona venture into an import shop or browse the boutique at your local museum or nature center.
Tie your look together with a textured scarf, wood necklace, suede belt or earrings of natural stones or feathers.
For a little bit of drama, try a large single gem placed on a wide silver collar or a sweeping shawl draped over one shoulder. You can also create your own dramatic statement by designing a piece of your own.
There are lapidaries, jewelry workshops and craft stores to assist you in this type of do-it-yourself project, and it's much easier than you might imagine!
2. Make Sure the Piece is Comfortable to Wear
Don't let ornate bracelets batter your bony wrists or a fabulous bejeweled choker feel like a ball and chain around your neck.
Sometimes it's necessary to "de-bauble" a necklace by removing some of the extra gems and give yourself a little more breathing room.
Another option is to try a soft scarf tied at the wrist or replace your heavy chain choker with a necklace of airy rings of gold or silver.
This will afford you personal style and allow freedom to move gracefully without carrying extra weight.
3. Reflect Your Own Natural Beauty
Find the nearest mirror and rediscover what you've been blessed with.
Study the unique features that form the image of you: coloring, contrast, curves, facial shape, lips, nose, eyes, hair, bone structure.
Any of these can be copied in shape, shade or surface and repeated in an accessory to complement your inherent artistry.
Replicate your facial features. Eyes are one of the easiest to work with.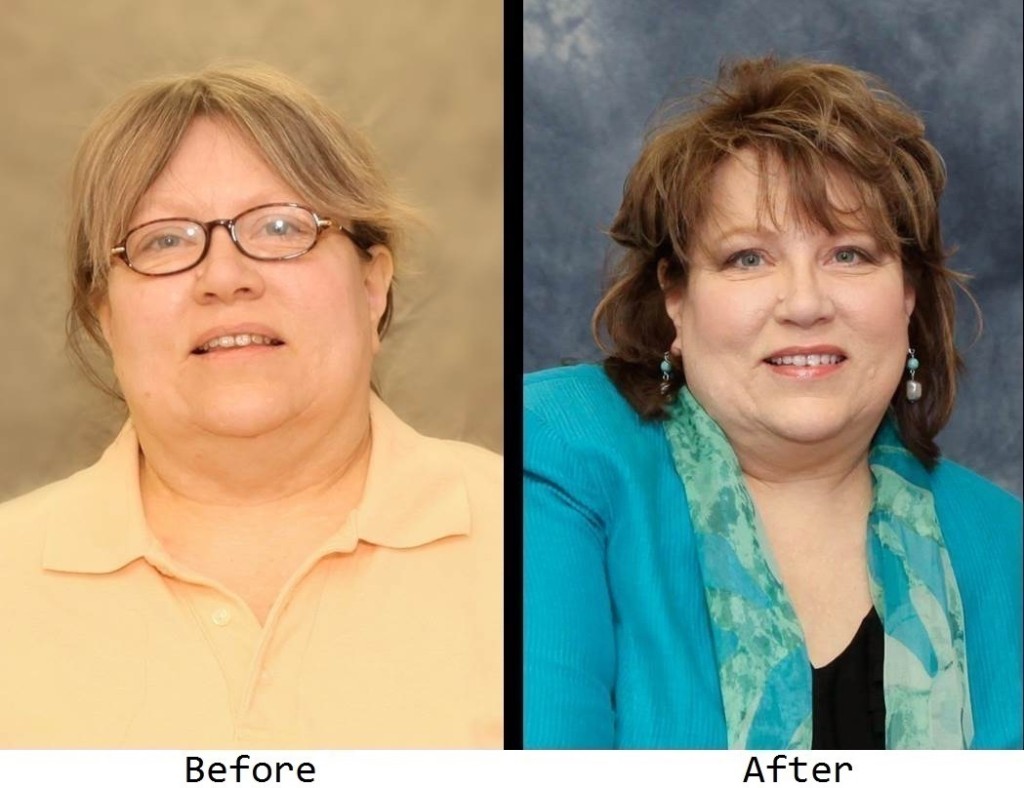 Pictured here is a beautiful Rubenesque woman who simply needed a little refining and defining.
In the after picture, notice how the earrings are about the same size and color as her eyes?
Do you see how the scarf pattern repeats the curve of her hair design and artistically combines the colors in her outfit and her eyes?
Start shopping for scarves by looking for designs that mirror your coloring, hair and body line and design.
A Statement-Making Accessory Enhances Your God-Given Beauty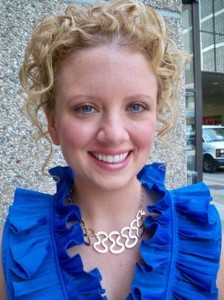 This gorgeous strawberry blonde has her curls repeated in her copper necklace – both in color and shape.
And notice the color repetition of her blue eye color as well as the ruffled collar mimicking the waves in her hair – she becomes the focal point.
Using and repeating the colors you see in the mirror, such as your eyes, lips and hair color is another great tool to choosing accessories that give them a distinctive edge.
A statement-making accessory can also showcase a radiant smile with a single strand of pearls to enhance your pearly whites.
Don't forget that makeup can also serve as an accessory of sorts.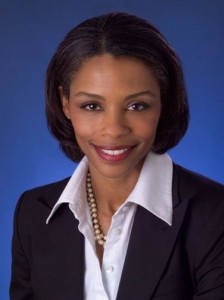 This red lipstick color sets off her best feature and doesn't steal the show, but shows her natural appeal.
Taking the time to find just the right piece that brings out the best in you will be a treasure hunt that pays off with years of compliments.
It's important that you seek the unique – check out the boutiques and designer looks in better jewelry stores, or take some time to peruse the creative collections at local arts and crafts shows.
Consider remaking what you already own or wearing it in an entirely new way. My DVD, Simply Scarves – 30 Ways to Tie a Scarf, will give you new ways to restyle your look in 30 seconds or less.
It's all about making a personal statement ~ distinctively you.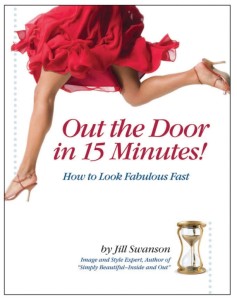 For more great ideas on how to build a wardrobe that rocks and a look that is fast and easy – check out the newly-released Out the Door in 15 Minutes! How to Look Fabulous Fast.
In my latest book, I teach you how to:
Look great – every day
Minimize, organize and prioritize
Accomplish glamour on the go
Experience real peace of mind
Available now at www.jillswanson.com and Amazon.com.
(published June 2, 2013)

Image Expert/Author/Speaker Jill Swanson works with individuals and organizations, helping people evaluate, update and accentuate to look fabulous. Her consulting firm, Simply Beautiful, is located in Rochester, MN with consultations available in person or through a comprehensive on-line personalized program. For more fashion ideas or to have Jill speak at your business or next event, go to www.jillswanson.com or call 507-281-2981.