Thursday, November 30th, 2023
by Brigid Titgemeier, M.S., Public Health Nutrition

An energy crash does not fit well into your busy workday schedule, but that doesn't stop it from booking itself an appointment midway through the afternoon. There is something about these energy slumps that can put a real damper on work productivity.
The good news is that these nose-dives do not have to be an everyday occurrence. Changing up your snacking routine can help recharge your workday, sending energy levels and efficiency soaring.
The key is choosing smart brain-healthy snacks that will help restore your energy supply and promote proper brain function.
Hitting up the vending machine for a soda or candy bar that is heavy on the sugar and light on the nutrients truly does the mind and body a disservice. Snacks that are high in added sugar cause the body's blood sugar levels to spike and then crash soon after, prompting energy levels to simultaneously bottom out.
Avoid an energy crash by choosing snacks with a whole grain carbohydrate, paired with a source of lean protein. Carbohydrates are the body's preferred source of energy and whole grain carbohydrates are high in fiber, which helps stabilize blood glucose and energy levels.
As an added brain-bonus, consider throwing in a source of healthy fat such as avocados, olive oil, or nuts. Try to keep your snack under about 200 calories but remember, the quality is just as important as the quantity.
Each of the following workday snacks contain high-fiber carbohydrates and lean proteins that will send you on your way to a productive day:
Cucumber Hummus Sandwiches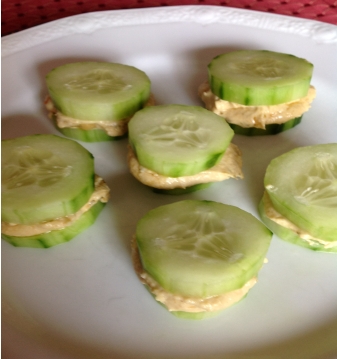 Chop horizontal cucumber slices and pack them in a plastic bag. Pack a separate Tupperware with hummus and a splash of hot sauce.
Assemble the cucumber sandwiches at work by spreading the hummus in-between two cucumber slices.
Cucumbers will help hydrate the body and the brain, as research shows they contain about 96% water.
Hummus provides an excellent source of plant-based protein that is high in fiber but low in fat and calories.
Greek Grapes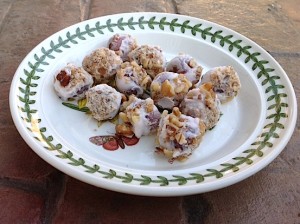 This snack is packed with nutrient-rich ingredients that will help fire up your brain cells.
Wash a handful of grapes and dry in a towel.
Next, dip them in plain Greek yogurt and roll in cinnamon and crushed up walnuts.
Place the grapes on a tray and throw them in the freezer.
Walnuts are high in omega 3s, which support proper brain function and development.
Research also suggests that cinnamon is associated with improved blood flow to the brain.
Homemade Trail Mix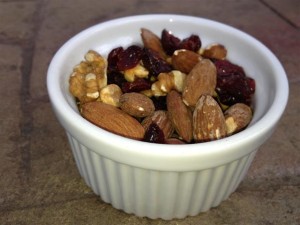 This homemade trail mix is filled with healthy fats that will provide a nutritious pick-me-up at work.
Blend together 2 cups of unsalted almonds, 1 cup of salted peanuts, 2 cups of walnut halves or pieces, 2 cups of raisins, and 1 cup of whole grain cereal.
Portion out individual servings of trail mix and place in plastic bags that you can literally grab on the go.
A recent study found that consuming healthy fats from nuts or olive oil was associated with improved cognition.
Making homemade trail mix reduces the added sugar that is added to some commercial trail mixes.
Talk about brainpower in a bag!
Personalized Seven Layer Dip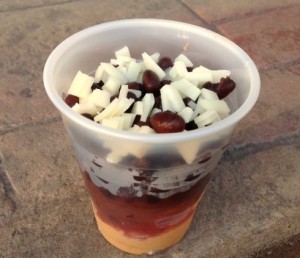 Think outside of the traditional seven layer dip that is served in a large dish at parties.
Pre-serve this healthy seven layer dip into individual plastic cups that make it easy to eat on the run.
It's a delicious and healthy snack that you can enjoy anytime.
In each individual cup, add the following layers:
· ½ cup hummus
· ¼ tomato mixed with ¼ of a sliced avocado
· ½ cup salsa
· ¼ cup corn
· ¼ can of black beans
· A layer of jalapeno peppers
· ¼ cup of low-fat mozzarella cheese
Pack a side of multigrain crackers that can be used for dipping, and enjoy!
These easy, healthy snacks will fuel your mind and body while keeping your blood sugar stable to avoid fluctuating energy levels.
By incorporating these healthy snack habits into the workday, you may discover improved work productivity.
(published August 27, 2013)

Brigid Titgemeier is a nutrition assistant at the Cleveland Clinic Wellness Institute. She is a contributor to health and nutrition articles for the Huffington Post, U.S. News and World Report, YouBeauty, and other web outlets. Brigid completed her Masters in Public Health Nutrition and dietetic internship at Case Western Reserve University in Cleveland, Ohio. Her professional interests include plant-based nutrition, field-to-fork initiatives, culinary nutrition, and corporate wellness.