Friday, June 2nd, 2023
by Jody Emer, Professional Chef

These roasted heirloom tomatoes are cups full of a delicious Grecian style mix of fresh herbs, pine nuts and golden raisins.
Chef's tip: try broiling or grilling tomatoes with sliced onions drizzled with extra virgin olive oil and top with sprigs of fresh herbs. Broil or grill for approximately 5-10 minutes.
Makes 4 servings
156 Calories, 3g Protein, 22g Carbohydrates, 10g Sugars, 7g Fat, 0.8g Saturated
Ingredients:
4 Large Heirloom Tomatoes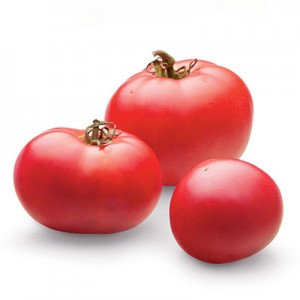 4 cups of cooked Jasmine Rice
10 Scallions, chopped
4 Tablespoons minced fresh Mint
2 Tablespoons minced fresh Parsley
½ cup roasted Pine Nuts
¼ cup Golden Raisins
2 teaspoons Extra Virgin Olive Oil
Black ground Pepper
Method:
1. Heat broiler or oven to 400 degrees. Prepare rice per package instructions. Set aside to cool.
2. On a baking sheet, line it with foil, set aside. You will need two of these.
3. Cut tomatoes in half, scoop out middle. Place on baking sheet upside down. Drizzle with 1 teaspoon of olive oil, black pepper and bake for about 15 minutes. Tomato should be soft, not mushy and the skin will be peeling back. Remove and cool.
4. While the tomatoes are roasting, place the pine nuts on a baking sheet and roast. Check and rotate pan every 2 minutes to avoid burning. They should be a light to medium brown, and they are done. When done, set aside to cool.
5. Mix the cooled rice, scallions, mint, parsley, cooled pine nuts and raisins in a large bowl.
6. Spoon this mixture into the roasted tomato cups. Place back in the oven for about 10 minutes until they are tender and cooked through.
Enjoy!
(published April 10, 2012)
Jody Emer is a celebrated chef in the Chicago area known for her fantastic presentation and superb-tasting food. She is praised for her ability to take food and create healthy, tasty and nutritional meals.

"Chef Jody" has had great success helping her many clients with weight loss or weight maintenance issues. Jody is certified in Professional Cookery, Bakery and Pastry, Catering and Dining Room Management. Jody specializes in cooking for restricted diets, such as diabetes, gluten-free, lactose, cancer, low-fat/high-protein diets, hypertension and gastric bypass patients. Her website is www.thyme2shine.com.