Friday, June 2nd, 2023
Jody Emer is a celebrated chef in the Chicago area known for her fantastic presentation and superb tasting food, and is known to bring a little moxie to the table! She is accredited for her ability to take food and create healthy, tasty, nutritional meals. "Chef Jody" has had great success helping her many clients with weight loss or weight maintenance issues.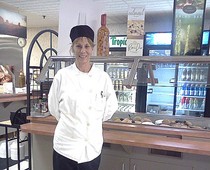 Jody is determined, ambitious, diversified, innovative and creative. Thanks to the help of her very supportive husband, Michael, she is proud to have been able to complete her course study at Kendall College, all the while continuing to take care of her children, Julia and Jacob, and working full time. Volunteering at the grade school, Girl Scouts, baseball and working various culinary jobs have all kept her very busy!!
Jody had the opportunity to study under the direction of Chef Galliffet in Lyon, France, also attending the 2005 Bocuse d'Or Competition. In the culinary industry for 15 years and in the kitchen since childhood, Jody has worked for various clients including the Walgreen and Wrigley family, Cardinal Francis George, Pactiv Company, Smith Barney, Prudential, US Foodservice (prepped for Rick Bayless), Aramark, Nordstrom, Vivere, Italian Village (Umbrian Chefs), Continental Mills, Morris Hospitality Services and was part of a live segment on Chicago's WGN television.
Chef Jody joined the Sara Lee Corporation as a national Executive spoke chef and the Executive media spoke chef for Gallo Salame, touring the west coast in summer of 2007. Chef Jody specializes in cooking for restricted diets and had the opportunity to work with Nutritionists, Dieticians and Chef Freddie Hernandez, Chef to the Chicago Bears, learning how to cook for athletes and performance.
In 2009, due to the declining economy, Chef Jody decided to reinvent herself and has improved her services by becoming a Certified Wellness Promoter, completing her studies in December of 2012 at the College of Lake County. Jody now joins her culinary talents along with the wellness as a Healthy Initiative Chef in the community. Her website is www.thyme2shine.com.
Jody is certified in Professional Cookery, Bakery and Pastry, Catering and Dining Room Management. She currently is a personal chef in the Chicago and North Shore areas serving several different types of clients. Jody specializes in cooking for restricted diets, such as diabetes, gluten-free, lactose, cancer, low-fat/high-protein diets, hypertension and gastric bypass patients.
Through healthy cooking and eating with moderation, Jody is determined to bring "family" and "health", back to the dinner table, as it truly serves to broaden her experiences as a chef. Chef Jody is very passionate about food and health.
Jody, a Kendall College Alum 2005, is an active member of the American Culinary Federation in Chicago, a volunteer for various non-profit organizations in Chicago, a volunteer for the American Cancer Society; North Shore Chapter, Team Building Instructor for Kendall College, and has been a guest/motivational speaker with Art Smith (Oprah's Chef), at various culinary schools in the Chicago area.
Jody Emer now looks forward enthusiastically to continuing her career in the culinary environment, helping others gets healthy and live life to the fullest!! Start watching for weekly posts on "Meals with Chef Jody, all under 350 calories or less!"
(published March 19, 2012)