Wednesday, March 22nd, 2023
by Sam Sukkar, M.D., Board Certified Plastic Surgeon

Many women find it hard to imagine how they will look after having a breast augmentation procedure. As a plastic surgeon, I spend a lot of time discussing appropriate implant size choices with my patients.
I normally use implant sizers in order to allow patients to visualize how their new breasts will look. Nevertheless, choosing the proper breast implant size is still difficult for many women, and I often watch patients agonize over their decision.
That is why I am excited that cosmetic surgeons now have a new tool to assist our patients in visualizing their breast augmentation result. This new technology is called Vectra XT 3D Imaging.
3-D imaging technology has actually been around for many years, but it has taken time to evolve. The technology has finally improved enough to become a user-friendly system that can be utilized effectively by plastic surgeons in their practices.
How Vectra® 3D Imaging Works
3-D images of the breasts are created with photographs taken by the Vectra camera. Capturing an image of the patient only takes a second or two and then the data is processed by a computer.
By the time the patient has returned to the consultation room, the images are ready to be simulated and can be reviewed together by patient and doctor. The doctor will select the specific parameters, adjusting for the type of implant (saline or silicone), along with size and texture.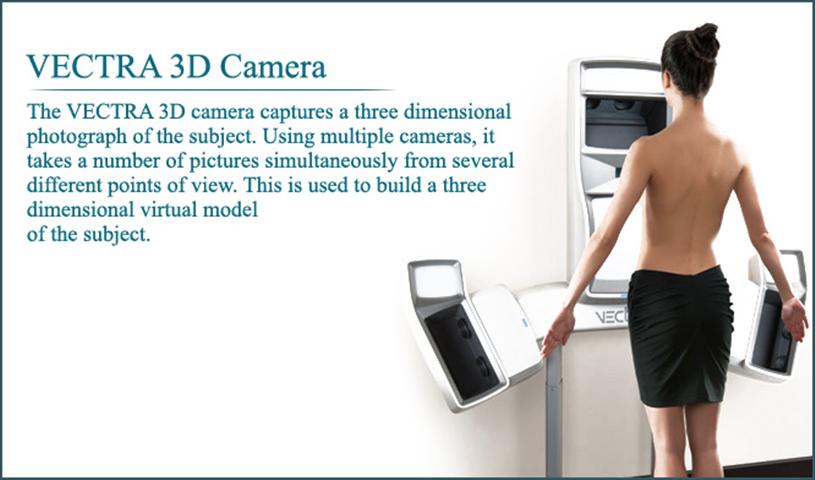 The nice thing about this system is that it comes with all of the commercially-available breast implant sizes preloaded so that with the click of a button, a patient can see not only how she looks right now, but more importantly how she will appear after her breast augmentation.
After a patient has decided upon the appearance that is right for her, her plastic surgeon will customize a treatment plan based on the 3-D simulation to achieve the desired look. Having already seen a prediction of the outcome, the patient can be confident in the results knowing that her doctor will use all of his training and expertise to help attain the aesthetic goals discussed.
High Patient Satisfaction with Vectra® 3D Imaging
Several published studies have shown that the accuracy and patient satisfaction with Vectra® 3D Imaging approaches 95 percent! In addition, many of the patients who were initially reluctant to proceed with a breast implant operation decided to do so after previewing their new look with this technology.
These studies have also shown that 3-D imaging actually makes a breast augmentation consultation more efficient by narrowing down the appropriate implant size choices more quickly. The patient can even get a printout of their anticipated result to take home with them.
The Vectra® 3D Imaging has been clinically studied in several offices around the U.S.A. prior to its nationwide release. My office will be one of the first in Houston to have this new technology and I suspect that in a few short years it will be standard equipment for plastic surgeons who wish to practice state-of-the-art breast and body-contouring surgery.
In addition, as a plastic surgeon I believe that the more discriminating and technology-savvy patient will demand this sort of technology, and will thus seek out those doctors who utilize it for breast augmentation surgery. After all, one of the most important decisions a woman has to make when considering breast augmentation surgery is what size implants will look best on her body.
It is regrettable to look back on one's breast surgery experience and wish you had chosen bigger or smaller implants. Vectra 3D Imaging eliminates this possibility by making it simple and easy to visually compare different-sized implants on your body BEFORE you have the actual surgery. This is a very exciting development in the cosmetic surgery field for both patients and their doctors.
(published June 1, 2012)

Sam Sukkar, M.D., is a board-certified plastic surgeon serving patients from his private practice in Houston, Texas. Throughout his training and medical career, Dr. Sukkar has published on a broad range of topics in plastic surgery, both aesthetic and reconstructive. Houston Magazine named Dr. Sukkar as one of Houston's "Top Docs for Women" in 2005 and 2006. For more information on the Vectra® 3D Imaging procedure, or to schedule a consultation, call 281.990.8487 or visit Dr. Sukkar's website at www.drsukkar.com.