Thursday, June 1st, 2023
Sean Boutros, M.D., FACS specializes in a wide range of advanced plastic surgeries including cosmetic, reconstructive, and craniofacial procedures. Dr. Boutros offers numerous procedures, but is especially dedicated to rhinoplasty, secondary rhinoplasty, facial rejuvenation surgery, ear reconstruction, breast reconstruction, cleft lip and palate reconstruction, and craniofacial surgery.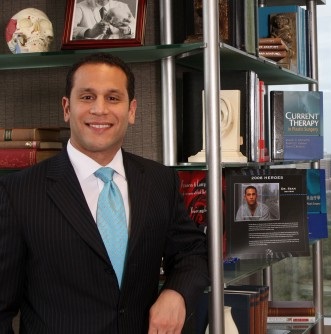 His natural-looking results and genuine concern for each patient have made him the one of the go-to plastic surgeons in Houston.
Dr. Boutros has also received wide recognition for his aesthetic skill and has been asked to lecture about rhinoplasty, ear reconstruction, facial rejuvenation, and craniofacial surgery not only at numerous national meetings and conferences, but also in venues around the world.
Dr. Boutros grew up in Houston. He attended Texas A&M University. After only two years, he was accepted to Baylor College of Medicine where he graduated with honors. At Baylor, he was inducted into Alpha Omega Alpha, the medical honor society for the top 5 percent of graduating doctors.
Dr. Boutros trained in plastic surgery at the world-renowned Institute for Reconstructive Plastic Surgery at New York University. There he studied under many of the world leaders in plastic surgery. Afterwards, he was accepted as the craniofacial fellow under Dr. Joseph McCarthy, know as a father of craniofacial surgery.
Additionally, Dr. Boutros spent time in Paris, France training under the world-renowned Ear Reconstruction specialist Dr. Françoise Firmin. He also had the distinct privilege of being mentored by rhinoplasty specialist, Dr. Nicholas Tabbal.
The international respect that Dr. Boutros has earned as a surgeon allows him travel the world teaching surgeons about all aspects of plastic and reconstructive surgery. Dr. Boutros has authored over 25 peer-reviewed articles along with nine book chapters. He also was the editor of the significant and best-selling plastic surgery text, Current Therapy in Plastic Surgery. Dr. Boutros served as the anatomist for the widely known book, Surgical Anatomy of the Orbit.
Dr. Boutros' success has afforded him with the opportunity to lead numerous international mission trips, providing care to children with craniofacial deformities. He has established Houston Foundation for Facial Reconstruction to enable him to care for children without access to medical care both here in Houston and abroad. Dr. Boutros has been publicly recognized for the work he has done including his heroic efforts treating victims in New York City on September 11, 2001, his international plastic surgery relief work, and his work in Houston on children who need plastic surgery but have no access to care.
In his own words, Dr. Boutros chose to be a plastic surgeon because, "plastic, reconstructive, and craniofacial surgery lets me apply principles and techniques to give people a new start in life." The passion, expertise, and dedication of Dr. Boutros assure that patients will leave Houston Plastic and Craniofacial Surgery gratified. This is why Dr. Boutros has been recognized as one of Houston's "Top Docs."
(published July 10, 2012)