Friday, June 2nd, 2023
by Brigid Titgemeier, M.S., Public Health Nutrition

There is nothing quite like a steaming hot home-cooked meal made with tender loving care. What's more, there is nothing like the nutritional advantage derived from eating meals out of the goodness of your own kitchen.
Unfortunately, in the midst of busy life schedules, cooking a nutritious meal at home often gets thrown on the back burner.
As Americans eat out more often, extra weight continues to pack on waistlines while kitchen appliances rust away.
While at times it may seem like there are physically not enough hours in the day to prepare a home cooked meal, it definitely deserves a spot in your daily planner.
Eating at home more often is a good starting point in transforming your health (in a positive way) and getting into better shape. Try to focus less on "dieting" and more on exploring the culinary scene.
By preparing food in your own kitchen, you have control over everything: preparation methods, portion sizes, and large proportions of healthy/unhealthy ingredients that are included.
Prepare Healthy, Nutritious and Affordable Meals at Home
Cooking your meals at home is a healthy alternative to dining out because it is easier to limit unhealthy nutrients in your own recipes and mix in foods that are "nutritional all-stars."
A recent study found that those who ate out-of-the-home more often ended up consuming more calories and fewer nutrients in a whole day.
The study looked at Norwegian adults who were non-substantial out-of-home eaters (<25% of calories) compared to substantial out-of-home eaters (>25% of calories) and found that the out-of-home eaters ended up consuming more calories, more sugar, and less fiber in a whole day than those who ate at home more regularly.
With the right kitchen tools, anything is achievable including cooking food that is more nutritious, convenient, and affordable.
These top five appliances are hot, fresh and straight from the kitchen – for healthy eating made easy:
#1: The Whirlypop: Pop a Batch of Homemade, Healthy Popcorn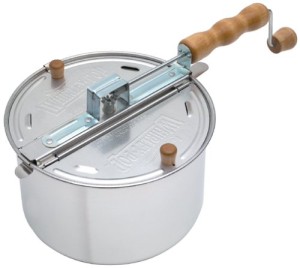 If you are craving the ideal snack that is full of flavor and light on calories, then a whirlypop deserves a spot on your stove.
Just add popcorn kernels with olive oil or canola oil, a little heat, a few cranks and there you have it: a guilt-free afternoon snack!
From time to time popcorn gets a bad reputation because it is commonly associated with diet-hating butter from the movie theater.
But if you look more closely, underneath all the movie theater grease you'll find the popcorn itself, which is a 100% whole grain, packed with fiber and antioxidants for very few calories.
Top it off with some salt, Mrs. Dash seasoning, cayenne pepper, or whatever your healthy heart desires!
Groceries: Bag of corn kernels, olive oil or canola oil, salt, Mrs. Dash or other seasoning.
#2: Rice Cooker: Dish Up an Easy Rice Dinner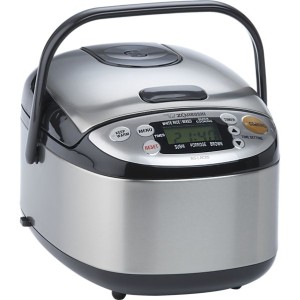 Moving onto an appliance that deserves a permanent place on your kitchen counter. The rice cooker is another kitchen tool that makes healthy cooking effortless and enjoyable.
In addition to cooking rice to perfection, this appliance can also be used as a slow cooker or a steamer. When whipping up a healthy dinner, pour in the brown rice!
Brown rice is higher in fiber and B vitamins than white rice. A 2012 study analyzed dietary patterns that favor leanness in the free living population and found that a higher intake of nutrient-dense carbohydrates was associated with a lower Body Mass Index (BMI).
So what are you waiting for? Grab a rice cooker to make your life that much healthier!
Groceries: Long grain brown rice, olive oil, lemon, salt and pepper, black beans
#3: Vitamix: Power Up a Nutritious Smoothie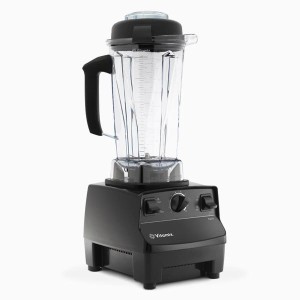 This high-performance blending machine is not your typical kitchen blender. Vitamix is the blender-of-choice for restaurants and food service establishments worldwide.
Equipped with a powerful motor, Vitamix can do more than grind up a few berries. It can also be used to whip up appetizing dips and spreads, dressings, soups, and more!
Vitamix can even be used to mix batter for muffins and bread. For those that prefer smoothies, bump up your fruit and vegetable intake with Vitamix's Going Green Smoothie recipe.
Groceries: Green grapes, pineapple chunks, fresh spinach, bananas.
#4: Handheld Strainer: Wash Away Excess Sodium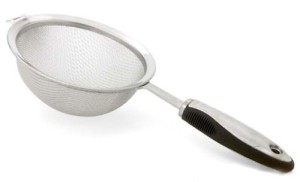 Excess sodium is associated with heart disease and stroke. Since most Americans get plenty of the white particles, this handheld strainer allows you to wash excess sodium away from canned foods.
This multipurpose tool can also be used to strain pasta or other grains. It is the size of one serving of pasta, making it much easier to control portions and avoid overeating.
Groceries: A can of black beans and whole wheat pasta.
#5: An Omelet Pan: Brown those Veggies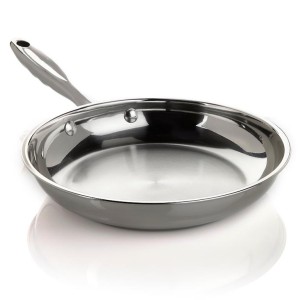 An omelet pan is the one appliance/tool that you cannot live without!
The sky is the limit when it comes to the variety of different meals that can be made in an omelet pan. Creating simple, low-fat dishes that taste great is truly a snap.
Use this incredible kitchen pan to cook a healthy egg omelet for breakfast or sizzle up a veggie bonanza for dinner.
Or try using the pan to cook frozen vegetables with olive oil and seasoning and serve up a healthy vegetable side dish!
Groceries: Eggs (1 yolk & 3 whites), salsa, spinach, frozen peppers, salt and pepper.
These 5 must-have kitchen tools will help you prepare healthier and more nutritious meals and snacks right at home. With a little bit of practice, you'll be amazed at the variety of delicious recipes you can create!
(published July 29, 2013)

Brigid Titgemeier is a nutrition assistant at the Cleveland Clinic Wellness Institute. She is a contributor to health and nutrition articles for the Huffington Post, U.S. News and World Report, YouBeauty, and other web outlets. Brigid completed her Masters in Public Health Nutrition and dietetic internship at Case Western Reserve University in Cleveland, Ohio. Her professional interests include plant-based nutrition, field-to-fork initiatives, culinary nutrition, and corporate wellness.