Saturday, January 28th, 2023
by Kathy Williams, Diet Counselor

Do you have special dietary needs? If you are looking for a good cheese substitute, then nutritional yeast recipes may be just what the doctor ordered. This healthy food has a unique flavor that is popular among vegetarians.
Nutritional yeast (also known as "nooch") is full of B-vitamins, folic acid, protein, selenium and zinc. It's also low-fat, gluten-free, and contains no added sugars or preservatives. Nutritional yeast is also the only reliable food source of vitamin B12, which means for vegetarians it's a good idea to add some to your food on a regular basis.
Nutritional yeast is usually found in the bulk foods or supplements section of your local health food store. Nutritional yeast comes in both flakes and powder form.
Just make sure you don't buy brewer's yeast by mistake, because it is quite similar in appearance to nutritional yeast. In Australia and New Zealand, nutritional yeast may also be known as "savory yeast" or "savory yeast flakes".
Vitamin B12 is absent from plant foods unless it's added as a supplement, which means nutritional yeast that contains B12 is a healthy addition to a vegetarian diet. Bear in mind that not all nooch contains added B12, so be sure to read the label carefully before buying.
Nutritional benefits aside, the best thing about nooch is its flavor, which has been described as savory, cheesy or even nutty. Adding a tablespoon or two to soups and gravies gives them a whole new richness.
The delicious taste of nutritional yeast comes from glutamaic acid, which is an amino acid created during the drying process. Adding a small amount of nooch to any dish enhances the flavors present and helps create a robust flavor base.
With its yellow color and cheesy/nutty flavor, nutritional yeast is is a favorite of vegetarians due to its unique flavor and similarity to cheese when added to foods. Sprinkle some nooch on hot popcorn or garlic bread, or add a spoonful to pasta sauce. You'll love the result!
Here are a couple of delicious nutritional yeast recipes worth trying:
"No Cheese" Macaroni and Cheese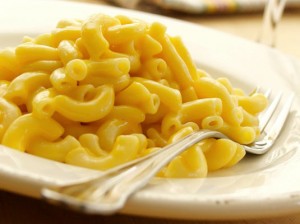 This delicious dish is a favorite for those individuals who cannot eat regular dairy cheese. It is easy to make and serves as a tasty snack or meal.
Ingredients:
1/2 cup margarine or butter
1/2 cup flour
1 cup yeast flakes
1 tablespoon salt
1 tablespoon garlic powder
3 cups soy milk or milk substitute
1 pound macaroni
Boil water in a saucepan, add the pasta, and cook for 8 minutes or until done. In a separate pan, slowly melt the butter taking care not to burn it. Add the flour to the melted butter and stir gently. Next, add the soy milk along with the garlic powder and the salt, continuing to stir all the while.
Continue stirring the mixture until it starts to bubble a lot. As the mixture thickens, continue to cook on low heat while stirring. Finally, add the flakes and then remove from the heat. Place the macaroni is a large bowl and then pour the cheese mixture over the macaroni and mix it all together well.
This kind of nutritional yeast cheese recipe is best eaten on the same day that you make it. Once it sets in the refrigerator for a day or two, it loses a lot of its flavor.
"No Cheese" Grilled Cheese Sandwich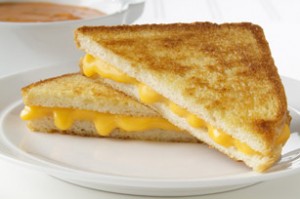 Everybody loves grilled cheese, especially kids. This recipe lets everyone enjoy a grilled cheese sandwich, regardless of any special dietary requirements or limitations.
Ingredients:
8 tsp of nutritional yeast
2/3 cup water
4 teaspoons tomato ketchup
1/4 teaspoon of dry mustard, salt and turmeric
8 wheat bread slices
2 tablespoons flour
2 tablespoons lemon or lime juice
2 tablespoons Tahini (ground sesame seed paste)
2 teaspoon corn starch
1 teaspoon powdered onion
Combine all ingredients in a saucepan on medium heat while stirring with a wire whisk. While continuing to stir, bring the cheese to a boil. Turn down the heat and cook until the cheese begins to thicken. Toast the bread, then pour the cheese on the toast to make sandwiches. You can make the sandwiches spicy by adding peppers or Tabasco sauce.
Delicious Nutritional Yeast Recipes Online
Nutritional yeast recipes are becoming more and more popular. They are a great way to substitute for regular cheese in your meals. If you look online, you can find a wide variety of healthy recipes for people who have special dietary needs.
Some of the best nutritional yeast recipe websites can provide you with an almost unlimited number of recipe ideas that you can make for your family. It's worth taking the time to learn to make healthier food that tastes good.
Just because a family member has special dietary needs doesn't mean they can't enjoy their favorite foods prepared with different ingredients. Your family will appreciate your making the effort to give them delicious food along with the nutrition that they need.
(published November 10, 2011)